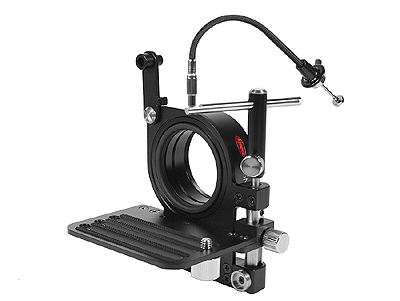 Kowa TSN-DA4 shown with the TSN-DA10 (for new 77/88 scopes)
While the
Kowa TSN-DA4
Universal Digiscoping adapter will work with virtually any Kowa spotting scope, it will not mount on any other manufacturer's scope. It's designed to be used with small point-and-shoot digital cameras, specifically ones lacking an accessory/filter thread (else you would use the
TSN-DA10
or
TSN-DA1
with a Kowa adapter ring for greater simplicity).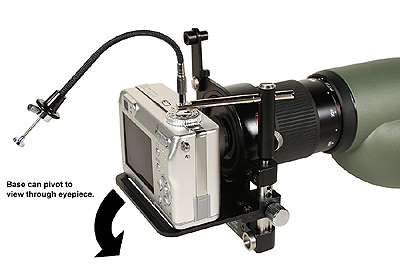 Naturally, point-and-shoot digital cameras that effectively reduce vignetting are those with a 4x optical zoom or less. The DA4 works in conjunction with either the DA10 (for the brand new 77/88 scopes) or the DA1 (all other Kowa scopes [820s, older 77s, TSN 2s & 4s, etc.]). Note: the DA4 will not support a D-SLR.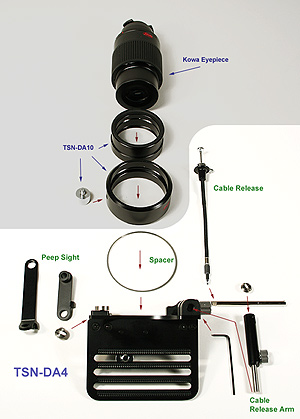 At first glance, the number of parts required may look a little daunting, but it's actually pretty easy to assemble once you set aside the instructions provided by Kowa (
kidding
). The base isn't too difficult to figure out, but the cable release and peep sight parts make it seem more complicated that it really is. This image shows an eyepiece and DA10 in the shaded area, all other parts are included with the DA4. The allen wrench in the lower right is used to tighten the cable release screw.
Through proprietary to their scopes, I have to give Kowa for credit for creating comprehensive digiscoping solutions that will function with a variety of digital cameras. In theory, any point-and-shoot digital camera should work with the DA4, provided it has a 4x optical zoom or less and a 1/4" x 20mm tripod thread.
The kit version of the DA4 sells for just under $400.00, but only includes the DA1, so it is not for the new 77 and 88 Kowa scopes. Sold separately, the price of the DA4 combined with the DA10 is nearly $500.00 and DA1 around $450.00. Hand-holding a point-and-shoot digital camera or building a custom digiscoping adapter is looking better all the time!
All images © 2007 Mike McDowell / Eagle Optics