Check out
Ben's first digiscoping results
with the Pentax K100D!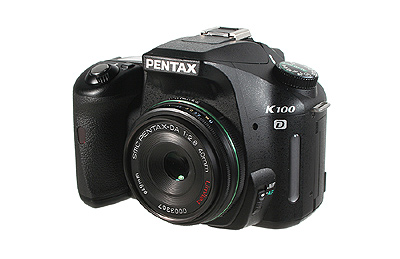 (click on image for larger version)
Digiscoping with point-and-shoot digital cameras (what I do) may become a thing of the past. As the evolution of point-and-shoot digital cameras seems to render them increasingly less digiscoping friendly, I have fewer cameras to suggest to people who email me requesting a recommendation. In fact, I can't actually recommend a single "in production" point-and-shoot digital camera for digiscoping. It's pathetic that digital camera manufacturers have not embraced the digiscoping technique, and they probably never will because it's not where the money is.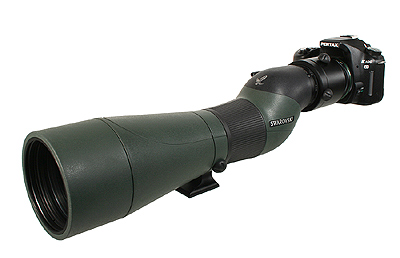 (click on image for larger version)
Lately I've been reading the
Yahoo digiscopingbirds group
with great interest by those coupling DSLRs directly to the eyepiece of their spotting scope. Some digiscopers, including Clay Taylor of Swarovski, have been getting pretty respectable results employing this method. My co-worker Ben Lizdas recently attended the Space Coast Birding Festival and was so impressed with seeing Clay's setup and results firsthand, he purchased a
Pentax K100D DSLR
to use with his Leica spotting scope.
(click on image for larger version)


Ben's new Pentax camera arrived today and I had only a few minutes to tinker around with it before he leaves for another birding festival tomorrow morning. When Ben returns, I should have more time to run the setup through more rigorous testing, however I was also impressed with how easy it was to setup and use on a Swarovski spotting scope.
Most of you know I use either a Nikon Coolpix 995, 4500 or 8400, all of which are discontinued. These are the only digital cameras I've used extensively for digiscoping birds. This makes it difficult for me to recommend anything else. Rather than make a blanket recommendation, I'm merely going to state that this new setup works pretty well.
I took the Swarovski/Pentax setup outside and took three quick pictures of an amazing chance encounter of a Tundra Wood Knot (from about 35 feet away). I used a complete manual focus (camera on manual focus, focusing exclusively with the spotting scope's focuser). It's still bitterly cold here and I didn't allow any time for the scope to acclimate to the outside temperature, so the focus looks a little soft. This picture was resized, unsharpmasked (120:1.1:1), slight level increase and made the colors just a tad warmer: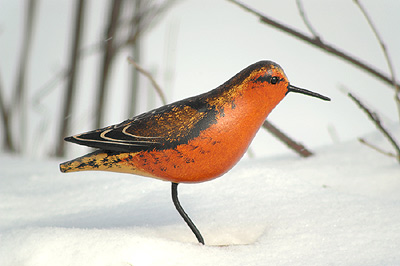 (click on image for larger version)


The Pentax K100D DSLR is combined with a Pentax 40mm f/2.8 lens. This lens has a 49mm accessory/filter thread. A 49mm-52mm stepup ring is required to connect to Swarovski DCA (digital camera adapter) configured with the 52mm adapter ring. This should work similarly with either Kowa's DA1 or DA10 digiscoping adapter and a 52mm adapter ring. If you're not going to go with a Swarovski or Kowa spotting scope, then whatever digiscoping adapter you get needs to come out to a 52mm thread (using the step ring).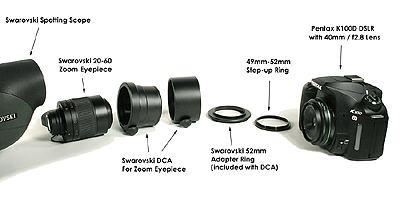 (click on image for larger version)


I'll preface my
so-called
recommendation like this: If all my present digiscoping gear suddenly vanished (all three cameras), I would probably replace it with this setup. But for now I intend to keep on using my Nikon Coolpix 995 until it dies. Perhaps I'll switch over to my Nikon Coolpix 8400, but I still haven't figured out how to get its white-balance to render accurate color.
All images © 2007 Mike McDowell