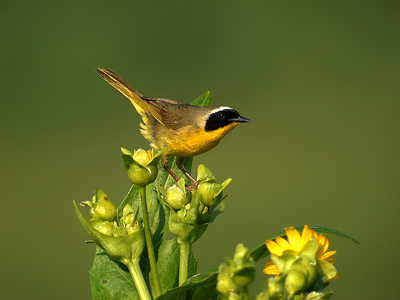 The weather forecast is a bit gloomy for the weekend – another 7 to 10 inches of snow predicted Saturday through Sunday. February is nearly over and that means some of the first spring migrants will be returning to Wisconsin, like Sandhill Cranes.
No matter how earnestly I try to hold onto those special moments, spring always seems to come and go far too quickly – I consume it with pure intensity and renewal. That's why I ask fellow birders what's more exciting, the anticipation of spring migration or spring migration itself?
In The English Patient, Caravaggio said, "You get to the morning and the poison leaks away, doesn't it?" Much of this winter has seemed like one worrisome and continuous black night. The sunrise may serve as a daily catharsis, but spring and the arrival of the colorful sprites is an antidote for all that ails me.
So enjoy this previously unpublished Common Yellowthroat photograph. They'll soon be on their way back to adorn our woods, marshes and prairies and fill the days of spring with song.
Common Yellowthroat © 2007 Mike McDowell