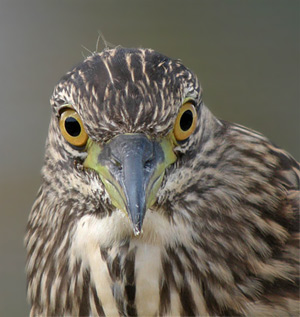 Neil Fifer
recently sent me
a link
to his pBase site showing digiscoped images taken through a Swarovski STS80 HD spotting scope, 30X fixed eyepiece and a Nikon Coolpix P5000 digital camera. He uses a third party 52mm adapter rather than Nikon's UR-E20 to connect the camera to the Swarovski DCA. Neil also conducted a
side-by-side test
comparing digiscoping results with the Nikon Coolpix P5000 and Coolpix 8400.
On the P5000, Neil writes:
Advantages:
Digiscoping friendly lens (36 -126 mm ).
Big, bright LCD screen.
Low nose sensor at ISO 64/100/200.
Accurate Auto-focus.
10 megapixels gives lots of room for cropping.
Good choice of adjustable features, including sharpness, contrast and saturation.
Disadvantages:
Slow frame rate of 0.8 frames/second (difficult for moving birds).
Lack of rotatable screen (not a problem for angled scopes).
No RAW mode (JPEG results are excellent, though).
If you're interested in digiscoping, especially comparing results taken through various scopes and digital cameras, you'll want to bookmark
this flickr site
. Digiscoper's from the digiscopingbirds Yahoo forum are being encouraged to add their equipment and sample digiscoped images, so hopefully it will become a valuable resource when selecting a digital camera for digiscoping.
Black-crowned Night Heron © 2007 Neil Fifer (used with permission)