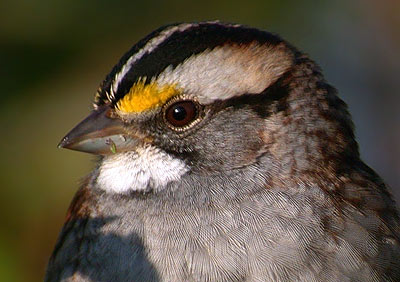 White-throated Sparrow - bird of the Boreal Forest
How about starting off the week with
good news
?
"The Nahanni National Park Reserve and UNESCO World Heritage Site protect a portion of one of Canada's most spectacular boreal wilderness areas and spiritual sites for local First Nations - the South Nahanni watershed. Canada announced on August 8th, that it would protect 5,400 additional square kilometres, bringing the total area under protection for the park - home to wolves, grizzly bears, lynx, woodland caribou, Trumpeter Swans, Dall's sheep and mountain goats - to 28,000 square kilometres."
In bird news closer to home, friend and colleague Katie Fitzmier and I went to Horicon National Wildlife Refuge early Saturday morning in hopes of finding Buff-breasted Sandpipers. Though we found 13 other shorebird species, we failed to find any buffies. I've also been checking a small sod field near work each morning for them, but thus far dozens of Killdeer have been the only shorebird species present. Birds in my backyard over the weekend included Rose-breasted Grosbeak, Ruby-throated Hummingbird, Red-breasted Nuthatch, Red-eyed Vireo, Eastern Wood-Pewee and a Green Heron. This morning I went birding along the stream corridor section of Pheasant Branch and found Blackburnian and Tennessee Warblers once again. I had about an hour and found about 30 bird species, a mix of resident and migrant birds. Fall field trips are just around the corner! August 30th
I'll be leading one at Pheasant Branch
for the Madison Audubon Society. It's free and open to the general public.
Laura Erickson, friend, mentor and author of
101 Ways to Help Birds
, recently
wrote a nice post
on her blog supporting my subtle sense of anthropomorphizing bird behavior. She's a far better writer than me and I enjoyed reading her thoughts about it. Oh sure, I can be Mr. Scientist about bird behavior when appropriate, but part of my personal enjoyment from birding comes from making comments like "
And take that!
" when observing a Lesser Yellowlegs jab at another in a dispute over territory or food. Anyway, be sure to check out
Laura's book
– it's filled with very doable things to help birds, and
do they ever need it
.
White-throated Sparrow image © 2007 Mike McDowell