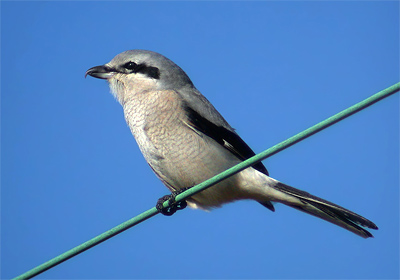 It was 17 degrees when I stopped at Pheasant Branch prairie this morning, but the windchill made it feel much colder. Though the skies were clear and blue, there was patchy evidence of snowfall during the night. I was thrilled to spot a Northern Shrike hunting the fields near the parking lot.
For as long as I've been birding at Pheasant branch, there has been a shrike or two present at this spot, usually arriving sometime in November and staying through winter until early March. The area provides excellent hunting habitat with a variety of prey items, especially an abundance of American Tree Sparrows.
The above Northern Shrike photograph was taken a few years ago at this same location. I was incredibly fortunate to have it perch on a utility wire very close to where I was standing – what an amazing opportunity!
Northern Shrike © 2007 Mike McDowell