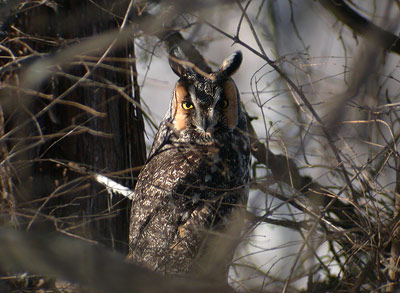 Long-eared Owl in Dane County
With only several days remaining in 2007 and no birding trips planned, I'm closing out the year with 235 bird species – my lowest annual tally since I've been keeping year lists. In an ongoing effort to bird closer to home, 164 of those species were found at Pheasant Branch Conservancy in Middleton, WI. Since I made far fewer trips to Lake Michigan (actually, I don't think I went at all this year), Horicon NWR and Nine Springs, there are a lot of gaps on my 2007 list for ducks, waders and shorebirds. I also skipped out on the Wisconsin Point field trip, so I missed a lot of gulls and all three jaeger species. I did well with songbirds and was pleased that I saw nearly all the sparrows right in Dane County.
I'll probably never have an annual list of 300 or more and that's alright. There are Wisconsin birders who meet or exceed this tally every year and I think I might understand what motivates them, but I don't know if it's the love of birds, science of ornithology, addiction, compulsion, the chase or some combination thereof. Speaking only for myself, when I did a Wisconsin Big Year in 2004, it was sort of like a crazed obsession. After awhile, whenever a rarity was posted to the Wisconsin Birding Network, I would experience a kind of unease and obligation toward my list. If I didn't chase the most recently reported rare bird, I would have to make it up somewhere else along the line in order to keep "300" as a realistic possibility before year end. It created a kind of anxiety toward achieving that goal.
I began to reduce the "chase factor" in 2005 and my birding endeavors are now much more relaxed, focusing on quality experiences rather than quantity. When I didn't chase the Green-breasted Mango in Beloit and felt no guilt, I knew I was cured! This present birding pace is a comfortable one that keeps the gasoline budget more reasonable and opens up a lot more time for doing other things I've lapsed with; things like bicycling and reading. Birding locally and recording observations into eBird is how I plan to continue with this rewarding hobby. Without a doubt, my best birding experience in 2007 was going to see a roost of Long-eared Owls with Sylva and Dottie in February. When Dottie saw those owls perched there before us, she began to cry - it was so moving. Even if there are fewer experiences like that, they somehow seem so much more special and rewarding compared with all that chasing time.
Long-eared Owl © 2007 Mike McDowell