Using his
Swarovski ATS 80 HD
and
Nikon Coolpix 4500
,
Tom Prestby
, wildlife ecology student at UW Madison, recently digiscoped these fantastic images of
Pine Grosbeaks
in Woodruff, WI. From the moment I first saw them, I knew I had to share these photos with my blog readers, so I asked Tom if I could publish them here.
Tom wrote about the experience, "The grosbeaks really were one of the most cooperative subjects I have ever worked with. There was a group of them at eye level in nice lighting and they were tame as can be. They stayed put on the same branch as they chowed down berries and did not care how close we got at all. With the experiences I have had, I know how lucky I was to have this kind of opportunity with such a neat bird."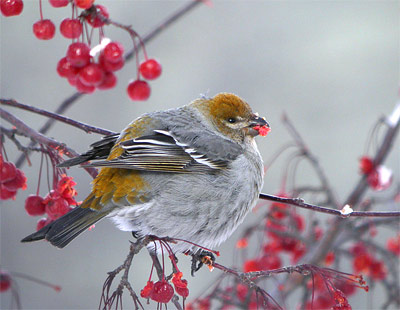 For more of Tom's great digiscoping work, please visit his
PBase gallery
. Also, feel free to leave feedback in comments here or at his PBase site for Tom. I'm sure he'll appreciate it!
All images © 2007 Tom Prestby