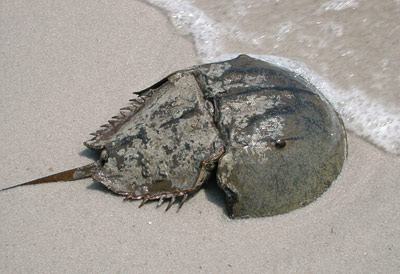 © USF&WS
Horseshoe-crab harvest set at 0, voids moratorium
"It's not the first time fish politics has been confusing, but this may be one of the more bizarre cases. One reason for the council's action is that the vote last month led to proposed state legislation to ban horseshoe-crab harvesting with the goal of benefiting the red knot, an endangered shorebird that feeds on horseshoe-crab eggs. Environmental groups are pushing that legislation. Council members did not like state lawmakers trying to take away their job of regulating fisheries. They also did not like the way the legislation reads and hope that by setting the harvest at 0 it may nix the bills under consideration in both the state Senate and Assembly."
Link:
Full article at PressofAtlanticCity.com
So, there's no moratorium.
But no harvest for horseshoe crabs in 2008.
And they're hoping the proposed legislation goes away.
What of 2009?