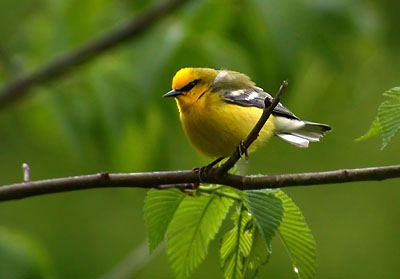 Blue-winged Warbler
The "problem" with enjoying spring migration so completely (birding mornings and evenings) is that there's little time left for blogging (or much of anything else, for that matter). So, as
Jeff Bouton
would say, this is an official "blogligated" post. Well, there are a few things I can mention. First, after a slow start, we ended up with 19 warbler species on the Madison Audubon field trip yesterday. This morning I decided to take a break from birding. Yes. You read that right. May 14th, peak of spring migration, and I took the morning off. Ever since the cold virus I had a few weeks ago my lungs have been giving me a little grief, but I'm feeling a bit better today after sleeping in this morning. I'll be substituting for Jesse Peterson on tomorrow's Audubon warbler walk at Pheasant Branch with Aaron Stutz. This time I promise we won't cross Century Avenue.
Do you manage your time well during spring migration?
Bird too much? Not enough?
Blue-winged Warbler © 2008 Mike McDowell