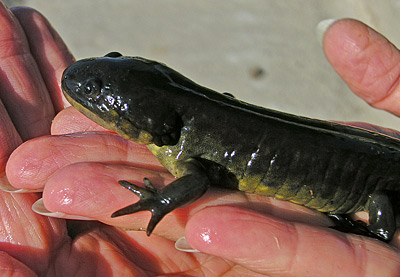 During the past few weeks, salamanders of the Middleton Hills pond have been migrating by the hundreds across Frank Lloyd Wright Avenue at night, but unfortunately cars are also squishing them. Salamanders generally wait for a rainy night and then initiate a mass exodus from the pond in order to reach woodlands. Houses have replaced most of the woodlands surrounding the pond, but some fragments remain. There was once a time when their journey was relatively safe – they could wiggle their way through grassy fields. But to reach the existing woodland fragments today, each salamander faces a much more dangerous journey through the urbanized habitat, including several street crossings.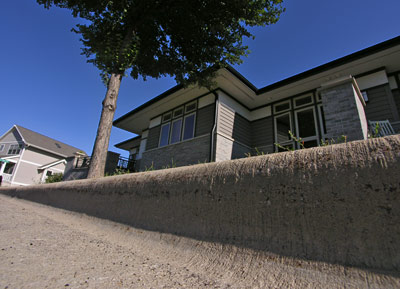 Getting from the pond onto Frank Lloyd Wright Avenue is easy enough, but then comes the road. If successfully crossed, the salamanders encounter the curb – a veritable death-zone. A barrier many of them are unable to climb over. By chance, some of the lucky salamanders might find a side street or driveway and continue their journey through backyards. But many trapped salamanders fall prey to opportunistic predators or are killed by street sweepers. As the sun warms the pavement, the salamanders begin to dry out and some instinctively head back to the pond, placing their lives in jeopardy once again with another street crossing...their squished corpses are everywhere.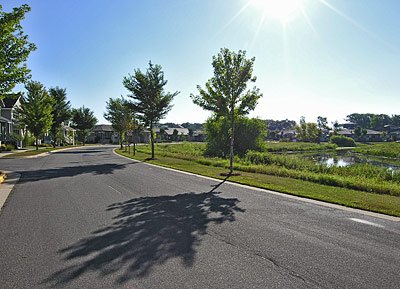 View showing the pond and F.L.W. Avenue
This morning Sylvia and I rescued and released as many trapped salamanders as we could. By 9:00 a.m., we couldn't find any more that were attempting to cross Frank Lloyd Wright Avenue. A few weeks ago, I started a dialogue with Middleton Public Lands to see what might be done to help these salamanders conduct their migration safely. They seem open to at least putting some signs up to increase public awareness, but I think some sort of ramp or tunnel system should be installed.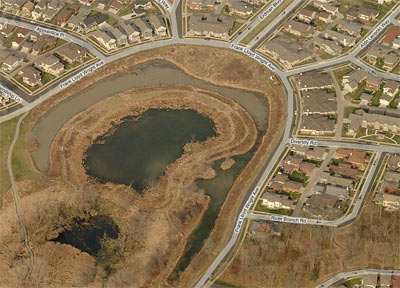 Aerial view of Middleton Hills pond
Note: Aldo Leopold Way? Hahaha!
All images © 2008 Mike McDowell