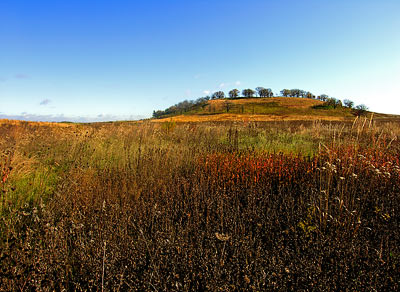 Red is fall's final burst of intensity - beautiful copper accents strewn into the landscape in a variety of forms. We're past peak. Gusty winds swept across the prairie, keeping most birds out of sight. As I walked, I occasionally heard sweet "
seep seep
" calls belonging to White-crowned, White-throated, and Fox Sparrows. Sometimes a lone sentry bird would pop up have a look, but most kept hunkered down out of the wind. I couldn't be certain how many birds were hidden in the grasses - I imagined a veritable party of foraging sparrows hidden from my view,
hop-scratching
. But the masses of them have left the conservancy to places south of Wisconsin. Conforming to the color theme, a brilliantly plumaged
Fox Sparrow
made a quick survey of its situation before returning below to a maze of stems. Though it was sunny most of the morning, there were snow flurries in the afternoon. Soon, winter's paintbrush will replace red with white.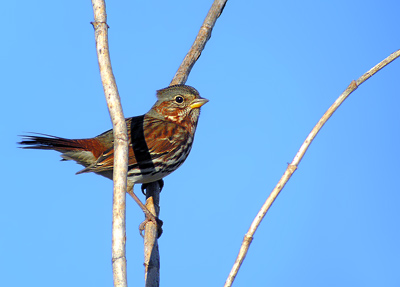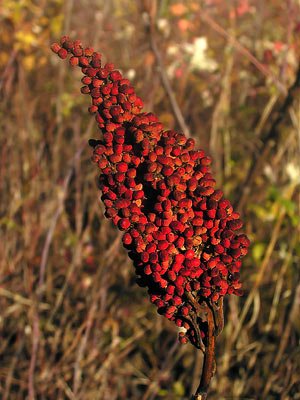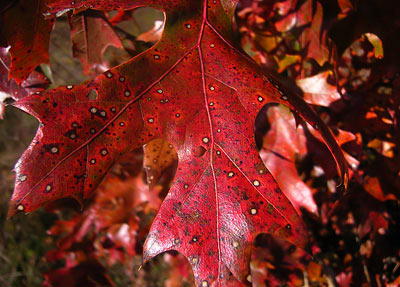 The Other Kingdoms - by Mary Oliver
Consider the other kingdoms. The
trees, for example, with their mellow-sounding
titles; oak, aspen, willow.
Or the snow, for which the peoples of the north
have dozens of words to describe its
different arrivals. Or the creatures, with their
thick fur, their shy and wordless gaze. Their
infallible sense of what their lives
are meant to be. Thus the world
grows rich, grows wild, and you too,
grow rich, grow sweetly wild, as you too
were born to be.
All images © 2008 Mike McDowell