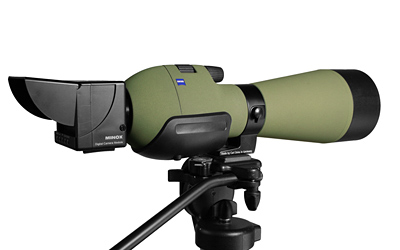 Minox DCM attached to a Zeiss 85 Diascope
I had an opportunity to test the
Minox Digital Camera Module 5.0
for the Zeiss spotting scope under good lighting conditions today. The module conveniently replaces a spotting scope's eyepiece, facilitating digital photography (3.2 megapixels, 5.0 interpolated) through the scope. It's available for Minox, Leica, Swarovski, Kowa, and Zeiss. Unfortunately, if you have a Kowa 82mm spotting, you're out of luck unless you already own the discontinued
TSE-EC
eyepiece converter. Depending on the spotting scope it's attached to, the DCM renders magnification from
32x to 45x
.
I conducted my tests using a Zeiss 85 diascope, which is 45x.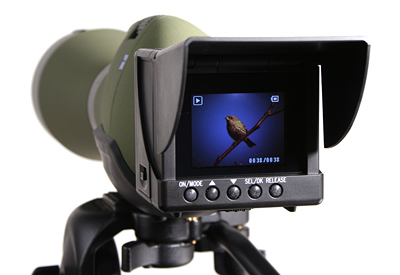 Control panel of the Minox DCM
Compact and user-friendly, I found the DCM easy to configure and use. Using the control panel on the DCM, you can adjust image quality (low, medium, and high), white balance, (auto, daylight, cloudy, and lamp), and adjust an exposure level (-1.8/+1.8). There's a video mode, self-timer and a remote shutter release as well. Unfortunately, there isn't as much control over settings as there is when digiscoping with a point-and-shoot digital camera coupled to the eyepiece of a spotting scope. When you're finished capturing images, the DCM connects via USB to your computer. The unit comes with a belt-looped carry case so you have a place to store it when using a standard viewing eyepiece.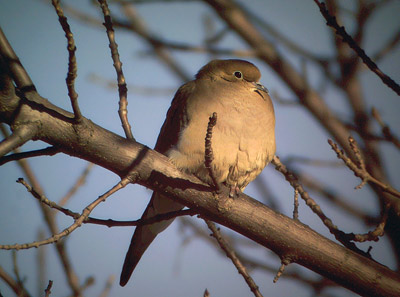 Easy results with the Minox DCM
There were several Mourning Doves that served as cooperative test subjects. The 45x magnification is higher than what I would normally digiscope with, so I didn't have to be as close to the birds – perhaps this will be a nice feature for new digiscopers. However, my sense is the distance factor will likely result in a loss of image detail.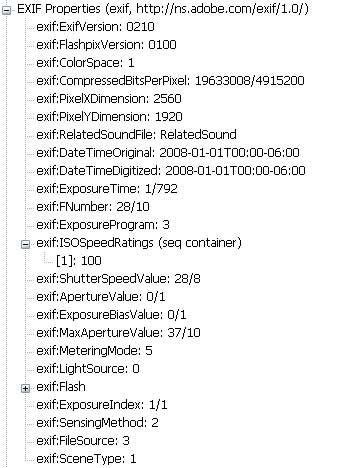 Though the EXIF data indicated ISO 100 (for the above dove exposure) and I had selected "high" for image quality, the original captures had pretty noticeable noise. Once I uploaded the images to the computer, I ran a noise reduction filter using Adobe Photoshop CS2 and was fairly pleased with the final post-processed results. A quick "auto color level" mostly corrected what I thought was too much red in contrast areas, but I didn't play around with the DCM's white balance and left it set to auto.
I can definitely appreciate the attraction the DCM will offer new spotting scope users who desire a convenient method of taking digital pictures through their setup. However, if you're already digiscoping with a point-and-shoot camera and are happy with the results you get, then there probably isn't much incentive for going with the Minox DCM.
© 2008 Mike McDowell