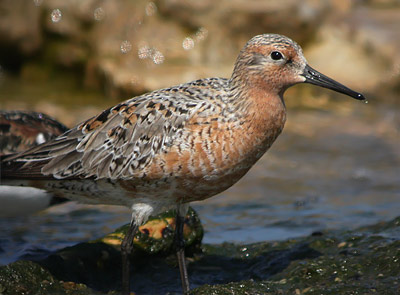 Thanks to the Delaware Bay's horseshoe crabs, the tide may




be turning for an imperiled shorebird

.

"The red knots descend from the sky. Plain, stocky sandpipers, they can fly a distance equivalent to a trip to the moon and back over the course of their lifetimes. They exude a twitchy, almost manic energy. Many have come from Tierra del Fuego, at the tip of South America. After a brief rest in Brazil, they travel almost 5,000 miles straight to Delaware Bay on the way to their Arctic nesting grounds. Upon arrival in the bay, they are basically starving, their breastbones protruding from their downy red chests."
Link:
Full article from Smithsonian.com
Red Knot image © 2009
Tom Prestby