Hey! Where the heck are the warblers!?
Though we experienced a few days of good birding late August, the past week has been pretty bleak for observing migratory birds at Pheasant Branch Conservancy. Birders from all around southern Wisconsin are reporting similar results; it's very quiet out there for this time of year. Natural areas that are generally teeming with wood warblers by now are nearly devoid of the sprightly birds.
Looking at
NexRad
radar early this morning, I noted such weak migration over northern Wisconsin I decided not to bother with birding. Late morning I received an email report from my friend Roma. She found only a few Tennessee Warblers, a couple of American Redstarts, and a single Wilson's Warbler at Pheasant Branch.
Probably the biggest reason we're not experiencing the typical large mixed-flocks of birds is due to the current high latitude of the jet stream. Those of us in the Midwest realize that September has been uncharacteristically warm so far. There just haven't been enough cold fronts with tailwinds to facilitate migration. Though the weather has been comfortable for us, it's keeping a majority of birds to our north. The forecast for the weekend (and into Monday) indicates a continued high latitude for the jet stream: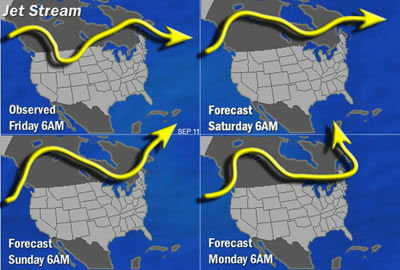 Here's the kind of jet stream pattern that should bring the birds south for those of us in the Midwest: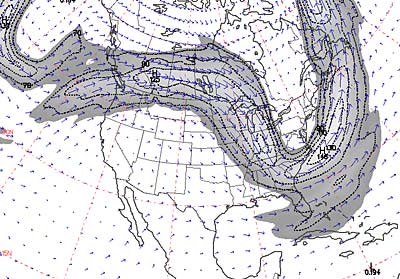 Link:
Current position of the jet stream