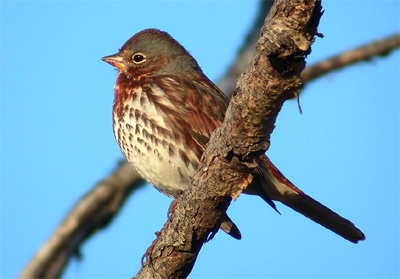 Welcome to October!
I'm leading 2 field trips at
Pheasant Branch Conservancy
for
Madison Audubon
this month:
The focus of these field trips will be migratory sparrows like White-throated, White-crowned, and Lincoln's. In addition to these, we've had Vesper, Clay-colored, Fox, Song, Chipping, Field, Swamp, and Savannah Sparrows during past field trips to this spot. If we're lucky, perhaps we'll find a Harris's! We'll also look for late warblers, flycatchers, thrushes and other fall migrants. Meet at the
Dane County Unit of Pheasant Branch Conservancy
, about 1-1/2 miles north of Century Ave. in Middleton on Pheasant Branch Road. This is the third parking lot for the conservancy on the right as you drive north out of Middleton. The field trip begins at 7:15 a.m. Bring warm clothes for cool early morning fall weather.
"Nature is ever at work building and pulling down, creating and destroying, keeping everything whirling and flowing, allowing no rest but in rhythmical motion, chasing everything in endless song out of one beautiful form into another."
-- John Muir
Link:
Location of field trip on Google Maps
Fox Sparrow © 2009 Mike McDowell