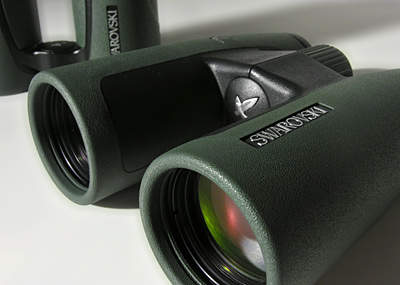 Swarovski SLC 8x42 HD
Swarovski
, at long last, has added an 8x42 to their SLC binocular line. Earlier this week I had an opportunity to get my first look at the new
Swarovski SLC 8x42 HD
and spent a little time comparing it with my
Swarovski Swarovision EL 8.5x42
.
Both binoculars specify fluoride-containing HD lenses, but the SLC HD is priced around $340 less than the EL; I was curious
what
optical differences I might find between the two. Though both binoculars have a generous field-of-view, the SLC is a smidge wider (408 ft @ 1,000 yds vs. 399 ft @ 1,000 yds). Also obvious is the fact that SLC HD lacks the field flattener that gives the Swarovision EL near perfect edge-to-edge sharpness. Resolution-wise, though, I was unable to discern a difference between the two. I no longer notice the Swarovision's "
rolling-globe effect
," but those who have trouble with that particular optical characteristic and desire the same super resolution, the SLC HD may be a better choice. Just remember that you'll be giving up the Swarovision's awesome edge!
Here are a few other minor differences: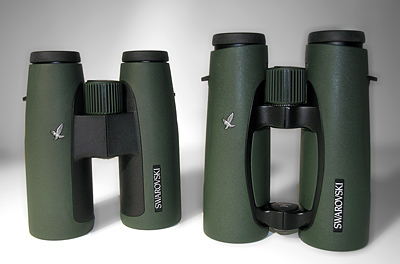 SLC HD (left) Swarovision EL (right)
From the image above you can tell that there are substantial ergonomic differences, the Swarovision EL retaining the open-hinge design of its predecessor. The SLC HD is a little heavier despite the fact it's shorter than the EL. Overall, I think the SLC HD is a worthy contender in the super-premium class of binoculars that includes the
Nikon EDG
,
Leica Ultravid HD
, and the
Zeiss FL
. Personally, I thoroughly enjoyed birding with my Swarovision EL this spring, which has elevated my views of birds to a
whole
new level.
© 2010 Mike McDowell