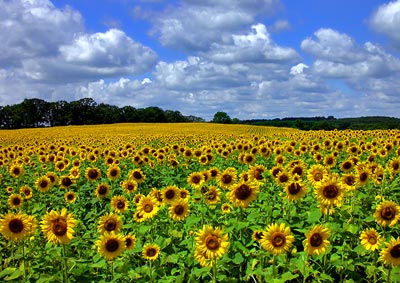 I spent most of Sunday enjoying the sights and sounds of
Pope Farm Park
in the Town of Middleton; the weather and lighting was
perfect
for digiscoping. The panoramic sunflower field is at peak and was announced in a local newspaper, attracting a multitude of park visitors to witness and capture its exquisite beauty. I took a few snapshots with my point-and-shoot camera, but quickly moved on to my primary quarry.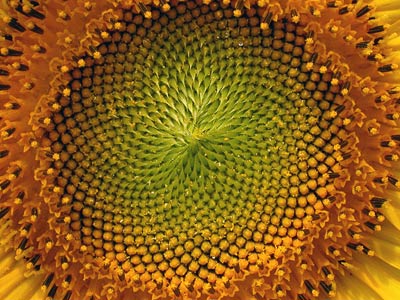 A relatively young prairie restoration effort, Pope Farm Park is attracting more and more grassland birds year by year. I was pleased to find a couple of Bobolinks. Last year Clay-colored Sparrows were somewhat sparse, but now their
buzz buzz buzz
song can be heard from every corner of the prairie. To the untrained ear, many would likely pass them off for an insect, like a grasshopper or cricket.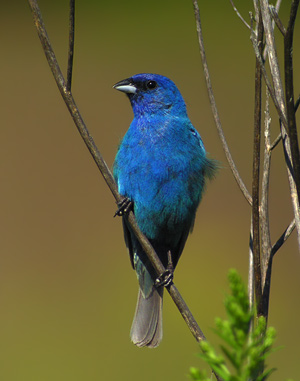 The park is also host to more showy songbirds like Eastern Bluebirds and Indigo Buntings. When I took these particular photos, I couldn't help think about a friend from Massachusetts who has never seen an Indigo Bunting. This bird shows hints of feather wear but still retains its gorgeous radiance. There were several juveniles lurking in the dense grasses by the oaks, so I was sure they had a busy and productive breeding season.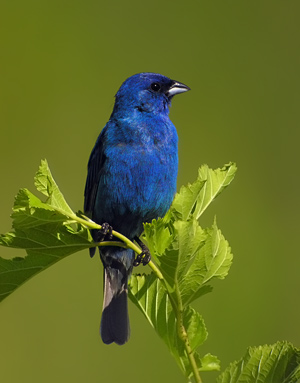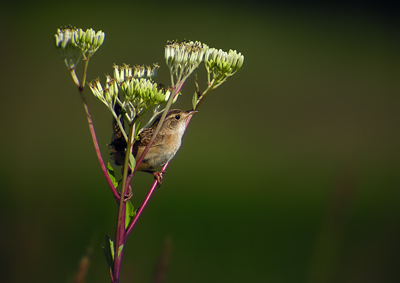 Another enjoyable discovery was the numerous Sedge Wrens that have recently taken up residence this summer at the park. Approximately twenty yards from one another, these two wrens exchanged songs practically the entire day. Towering above the prairie, the Sedge Wren below seemed to favor this particular perch, making a lovely portrait of a singing bird.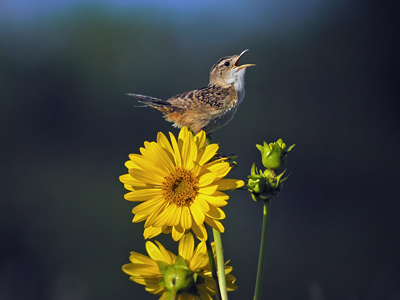 Pope Farm Park – July 25th, 2010:
Great Blue Heron
Turkey Vulture
Mourning Dove
Chimney Swift
Red-bellied Woodpecker
Northern Flicker
Eastern Wood-Pewee
Eastern Phoebe
Eastern Kingbird
Blue Jay
American Crow
Tree Swallow
Barn Swallow
Black-capped Chickadee
Red-breasted Nuthatch
House Wren
Sedge Wren
Eastern Bluebird
American Robin
Gray Catbird
Brown Thrasher
Cedar Waxwing
Common Yellowthroat
Chipping Sparrow
Clay-colored Sparrow
Field Sparrow
Vesper Sparrow
Song Sparrow
Northern Cardinal
Indigo Bunting
Bobolink
Red-winged Blackbird
Eastern Meadowlark
Common Grackle
House Finch
American Goldfinch
All images © 2010 Mike McDowell