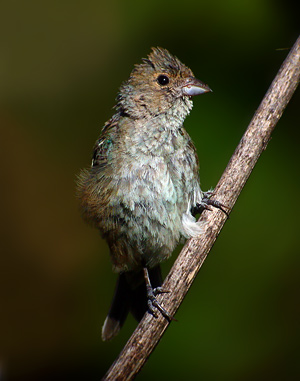 Indigo Bunting
Pheasant Branch Conservancy was somewhat birdy today, but the only confirmable
migrant-on-the-move
was a
Black-and-white Warbler
found within the first few minutes of the outing; all others were species that nest at the conservancy. This should change over the next few days as winds and cooler temperatures are sure to entice more migratory passerines down from the north.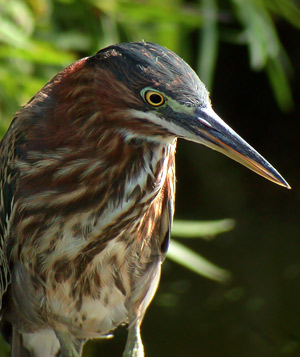 Green Heron
As we were heading out of the conservancy, Dottie Johnson and I spotted a motionless
Green Heron
, staring into the duckweed pond, exhibiting impressive intensity and patience. Though we waited several minutes to see what it might catch for a meal, the little heron didn't move a millimeter.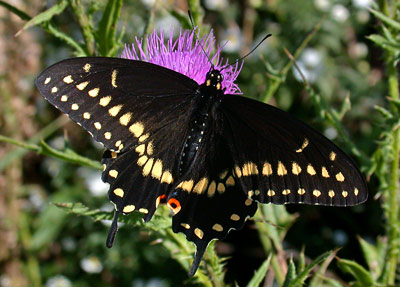 Black Swallowtail
If you've spent any time at all at a natural area or park this summer, it's been hard not to notice all the butterflies. I can't recall ever seeing so many
Black Swallowtails
. As the saying goes, when the birding is slow, birders switch to butterflies or dragonflies.
Location: Pheasant Branch
Observation date: 8/15/10
Number of species: 32
Wood Duck
Mallard
Great Blue Heron
Green Heron
Red-tailed Hawk
Mourning Dove
Red-bellied Woodpecker
Hairy Woodpecker
Downy/Hairy Woodpecker
Northern Flicker
Eastern Wood-Pewee
Great Crested Flycatcher
Warbling Vireo
Red-eyed Vireo
Blue Jay
American Crow
Barn Swallow
Black-capped Chickadee
Tufted Titmouse
White-breasted Nuthatch
House Wren
Eastern Bluebird
American Robin
Gray Catbird
Cedar Waxwing
Black-and-white Warbler
Chipping Sparrow
Song Sparrow
Northern Cardinal
Indigo Bunting
Baltimore Oriole
House Finch
American Goldfinch
All images © 2010 Mike McDowell