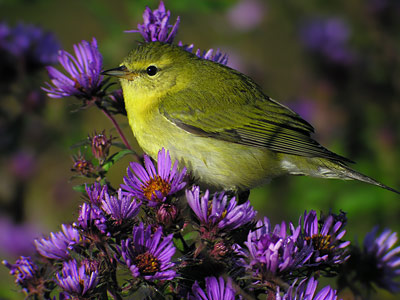 Tennessee Warbler
Walking down the prairie parcel trail at Pheasant Branch Conservancy this morning, I didn't even see this Tennessee Warbler until I inadvertently flushed it from a patch of asters. Observing its short escape flight, I had a feeling if I stepped back and waited that it might return to feast on whatever bugs were on the flowers. Moments later, the warbler flew out from the thicket opposite side of the trail and landed somewhere back in the patch of asters. Eventually the bird made its way to the top of the sunlit flowers, giving me a brief but unobstructed shot with my digiscoping rig. Though new, this is one of my favorite warbler photographs; I love the way the yellow-green bird contrasts with the purples.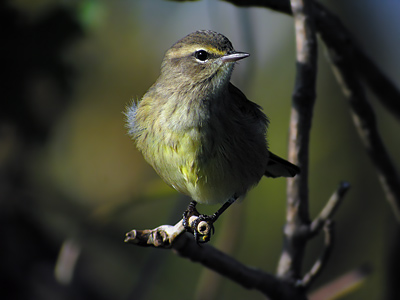 Palm Warbler
Making my way slowly down the trail and keeping a sharp eye out for digiscoping subjects, I caught a Palm Warbler by surprise. Less skittish than the Tennessee, it quickly darted up to a perch, pumping its tail as it sized me up for threat level. When the bird took flight, another Palm Warbler followed that was concealed behind the tangle of branches, joining its migration companion.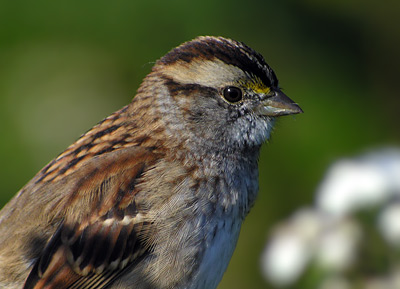 White-throated Sparrow
This White-throated Sparrow was right at the edge of the close focus of my spotting scope, so I wasn't able to frame the whole bird. Instead, I opted to increase the eyepiece magnification to get a nice close-up portrait of the bird. Just look at the amazing detail!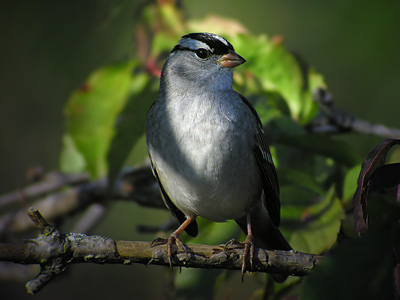 White-crowned Sparrow
A little less cooperative than the white-throats, this White-crowned Sparrow was out in the open but perched in the shadows below some leaves. However, as the bird sidled left to right, I anticipated a moment when the bird's face might be illuminated by one of the narrow shafts of light coming through the dense cover. I think the result is effective. I like the way the light forms a spotlight effect from above the bird.
All images © 2010 Mike McDowell