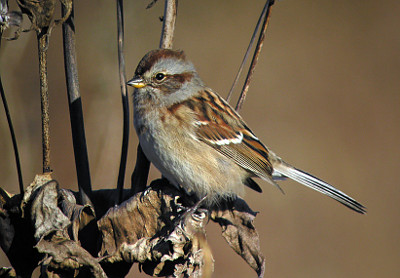 While many songbirds continue their southward journey, the first
American Tree Sparrows
to arrive at Pheasant Branch are sensed as a sign of fall migration's end. Having these particular sparrows around all winter is fortuitous for me, but these hearty little birds must endure some of the harshest weather nature can render; deep snow, sleet, freezing rain, blizzards, and
frigid temperatures
. All the while they remain alert for predators like Northern Shrikes and Cooper's Hawks. There's plenty of food for the sparrows to eat at the prairie, but also things that will try to make a meal out of them.
The length of daylight after I finish work is down to under an hour and by the end of November I'll be spending more time indoors. There is no "indoors" for the brave American Tree Sparrows; minute by minute, they'll contend with everything that enters the prairie from now until the end of March. Once the spring thaw begins, the tree sparrows will sing their cheerful "
teedeloo
" calls before returning home, farther north than any of their close relatives.
© 2010 Mike McDowell