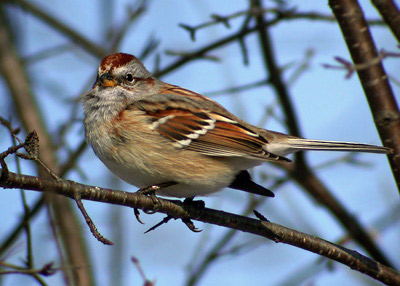 American Tree Sparrow
On Sunday I made my first birding excursion to
Pheasant Branch Conservancy
for 2011. Temperatures were in the single digits as I headed out the door, but the forecast called for highs in the low twenties. Despite the cold and crisp air, I felt sublimely chipper beginning another year of birding at a location I feel a deep connection with nature.
A typical winter outing to the conservancy yields around 30 common bird species, but I'm always prepared for the occasional surprise. This time it turned out to be a lone
Killdeer
foraging along the edges of the big springs located at the prairie parcel. How incredibly weird to find a Killdeer in early January! There's plenty of edge habitat surrounding the water, which remains open throughout winter, and the bird seemed healthy and content with its wintery situation. The water at the springs maintains a constant temperature of 51 degrees Fahrenheit throughout the year, so the bird, being closer to the water than me, was probably considerably warmer!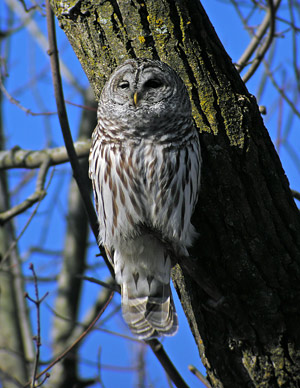 Barred Owl
From the prairie, I headed south into the woods and walked along the creek corridor trail where I came upon a roosting
Barred Owl
. Actually, I'm familiar with where most of the owls roost at Pheasant Branch, including this one, so I was merely checking up on it. I took a few photos of the owl, watching it open its eyes slightly whenever another person walked or jogged by. Only one couple stopped to ask what I was looking at; they were awed at the splendor of the large white and brown bird through my spotting scope. To me,
sharing
will always be an exhilarating and big part of my birding.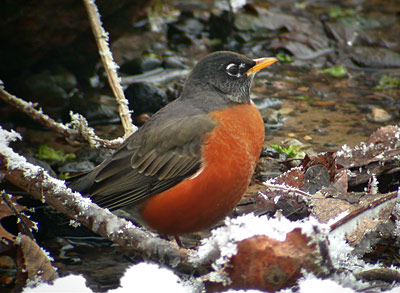 American Robin
Content with my owl images, I made my way across the bridge to where there is a small springs. Once there, I found several
American Robins
picking through leaves, watercress, and mud for whatever they could find to eat. This is a good spot to find a wide variety of wintering songbirds because there's food, water, and ample cover from predators. Also in the area were a few
White-throated Sparrows
, a
Swamp Sparrow
, lots of
American Tree Sparrows
and
Dark-eyed Juncos
. Further down the corridor trail I was happy to find a
Winter Wren
darting and chirping "
dip-di-di-dip-dip
" through the understory.
After spending four hours hiking and searching, I was satisfied I probably wasn't going to find more than 29 species. What did I miss? I was surprised not to see a single Cooper's Hawk. There were lots of Pine Siskins during the CBC week, but I didn't see or hear a single one during my outing. Also, I miss not having a Northern Shrike hunting at the prairie this winter. I wonder if clearing out the thicket and small trees along the northern edge made it less inviting for shrikes? All the better for the sparrows, I suppose!
Location: Pheasant Branch
Observation date: 1/9/11
Number of species: 29
Canada Goose
Mallard
Red-tailed Hawk
Killdeer
Rock Pigeon
Mourning Dove
Great Horned Owl
Barred Owl
Red-bellied Woodpecker
Downy Woodpecker
Hairy Woodpecker
Northern Flicker
Blue Jay
American Crow
Black-capped Chickadee
Tufted Titmouse
White-breasted Nuthatch
Brown Creeper
Winter Wren
American Robin
Cedar Waxwing
American Tree Sparrow
Swamp Sparrow
White-throated Sparrow
Dark-eyed Junco
Northern Cardinal
House Finch
American Goldfinch
House Sparrow
All images © 2011 Mike McDowell