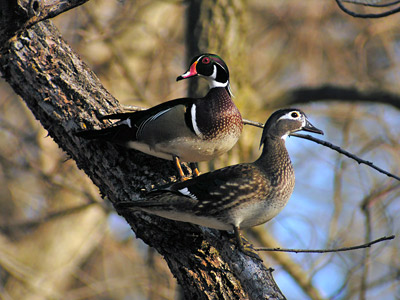 Cooperative Wood Ducks!
Shades of brown dominate the woodland scenery, but April's greening will soon begin to render its stirring colors. It's still below freezing most mornings and patches of snow remain in pockets of shadows along the creek corridor trail; warmer weather should be here in another week. Even so, April can whip up an unwelcome snowstorm, so this isn't necessarily the last of wintery weather.
This morning I covered my usual route and got some digiscoped images of Dark-eyed Juncos, American Robins, Tufted Titmouse, and a Song Sparrow. But my favorite was this photograph (above) of
Wood Ducks
perched in a tree – what a perfect subject to accent the drabness of the early spring forest. I also found my first-of-spring
Eastern Phoebe
enthusiastically proclaiming its territory with its diminutive song; naturally, right next to a bridge.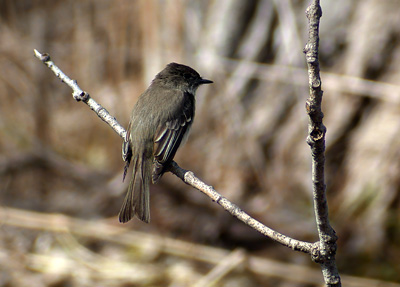 Eastern Phoebe returns to Pheasant Branch.
Location: Pheasant Branch
Observation date: 3/31/11
Number of species: 30
Wood Duck
Mallard
Cooper's Hawk
Mourning Dove
Great Horned Owl
Barred Owl
Belted Kingfisher
Red-bellied Woodpecker
Downy Woodpecker
Hairy Woodpecker
Northern Flicker
Eastern Phoebe
Blue Jay
American Crow
Black-capped Chickadee
Tufted Titmouse
White-breasted Nuthatch
Winter Wren
American Robin
European Starling
Cedar Waxwing
Fox Sparrow
Song Sparrow
Dark-eyed Junco
Northern Cardinal
Red-winged Blackbird
Common Grackle
House Finch
American Goldfinch
House Sparrow
All images © 2011 Mike McDowell