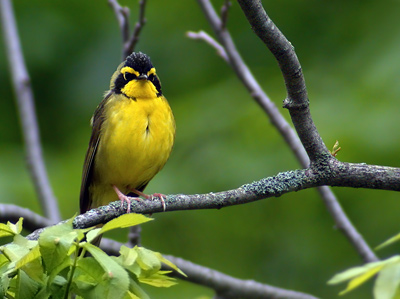 My records indicate May 26th, 2004 as the last time I saw a
Kentucky Warbler
... until today! A few days ago, Charles Naeseth called to tell me he heard one singing at
Owen Park
, and then this morning Jesse Ellis posted a sighting on the Wisconsin Birding Network; one has been present at
Hoyt Park
for the past several days. I decided to try and find this bird because Hoyt is a lot closer than
Wyalusing State Park
. I'm sure this species still nests in the
Baraboo Hills
, but I haven't had one at Baxter's Hollow in a long time.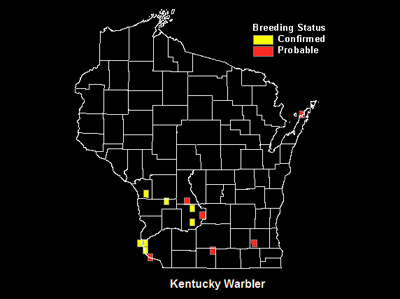 I went to Hoyt Park after work today and could hear the Kentucky Warbler singing just as soon as I opened my car door. Entering the woods, I walked a short distance down the trail in the direction of its repeating "
prr-reet prr-reet prr-reet
" song. As the singing grew louder and louder, I knew I was getting pretty close to the bird. And then, all of a sudden,
there it was
, perched on a branch and looking directly at me!
Not that I'm big on listing these days, but having a Kentucky Warbler for 2011 leaves only Worm-eating, Kirtland's, and Yellow-breasted Chat for Wisconsin Warblers this year. Though two Black-throated Gray Warblers have been reported in the Madison area this spring, I'm certainly not counting on seeing one, but you never know!
Kentucky Warbler © 2011 Mike McDowell