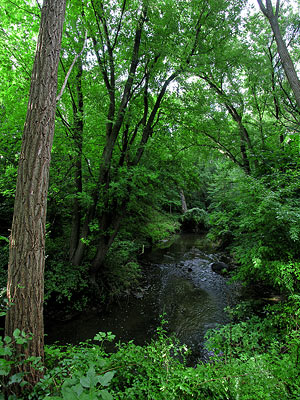 The warbler waves are forming in the north. Ashland birder Ryan Brady found 13 warbler species this morning. With suitable tailwinds, these birds should begin arriving in Dane County in about a week or so. Apart from resident and summer birds, things are still pretty quiet here.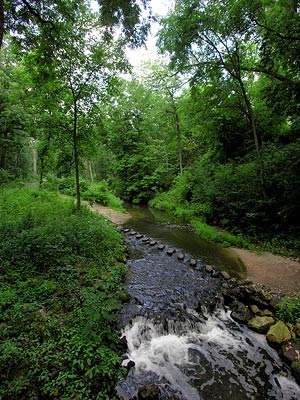 During the apex of migration when birds are plentiful, I'm so busy looking for the next feathered gem I sometimes forget to appreciate Pheasant Branch for its own natural beauty. It seems I get bird
sightedness
at times. I'm blind to the trees; rather than looking
at
them I'm looking
in
them for birds.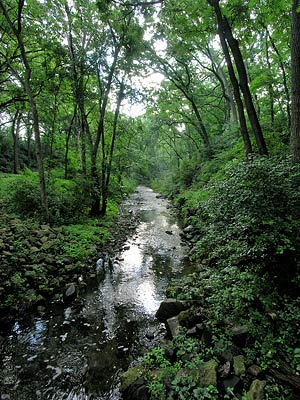 So, while the birding is comparatively slow, I've been taking some time to photograph the creek corridor during recent walks. It's a veritable jungle this time of year. When I'm here it's easy to forget that this mile-long narrow stretch of habitat is surrounded by homes, schools, gas stations, and mini-malls.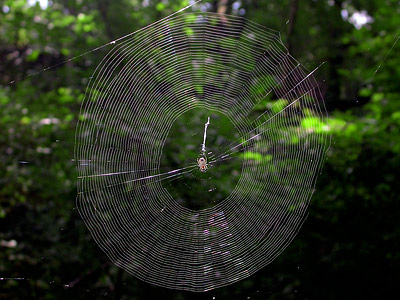 I've seen aerial photographs of the creek corridor and sense what birds must see as they approach. With all that's here it's really no wonder there are such high concentrations of migratory birds during spring and fall. It's an oasis in the middle of a city.
These images represent some of my favorite spots. Can you imagine birding here? Coming up on two decades of birding at the conservancy, the place has structure and form that's so familiar to me it feels like kind of home – it's very comfortable. I'm sure you must know what I mean if you bird the same location day after day. Maybe it's an aesthetic thing, but there are particular spots that just stand apart from others.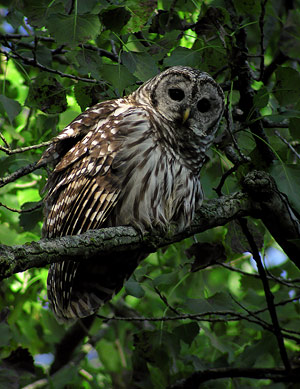 Other spots are extra special for the regulars one encounters!
All images © 2011 Mike McDowell