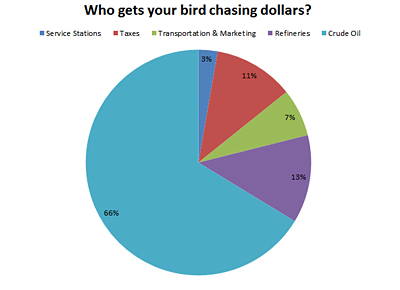 Your favorite sanctimonious curmudgeon is back with more to ponder as you're driving your car in pursuit of the next rare bird. Have you ever dissected a gallon of gasoline to see who we're all paying to sustain our bird chasing hobby? For my calculations below, I assumed a vehicle that gets 30MPG and $3.25 for the price of a gallon of gasoline. According to stats from the
US Energy Information Administration
, here's how and who we're financially supporting for every 10,000 of bird chasing miles put on our vehicles:
Service Stations: $32.50 (3%)
Naturally, they get the smallest slice.
Taxes: $119.17 (11%)
This money is used to keep our roads in good and safe driving condition.
Transportation & Marketing: $75.83 (7%)
As advertised.
Refineries: $140.83 (13%)
This is for the process of taking crude oil to fuel.
Crude Oil: $715.00 (66%)
Who gets the biggest slice? Oil producers like ExxonMobil, Chevron, BP, Marathon, etc., as well as oil companies controlled by countries like Saudi Arabia, Mexico, and Venezuela. So, what have they done for the environment lately? To say I dislike the above companies is an understatement. I know it would weigh on my conscience if I had to handwrite personal checks to these places each month, but all I have to do is swipe my debit card at the gas pump and everyone gets paid. Isn't it nice to know who we're paying to support our birding hobby?
Oil chart © 2011 Mike McDowell