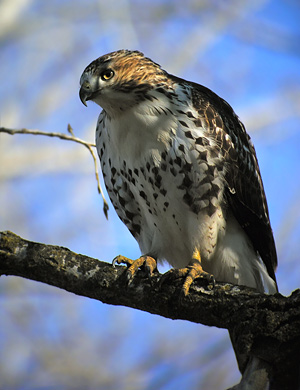 Red-tailed Hawk
It was a clear and very cold morning with a strong breeze, so it felt even colder than 11 degrees. I didn't get up in time to watch the partial lunar eclipse, but this was intentional. I figured it wouldn't be as good as the
opportunity I had back in February 2008
for photographs.
After making a quick trip to Waunakee to show Sylvia Marek the
Snowy Owl
, I hiked my usual route at
Pheasant Branch Conservancy
and observed 32 species. Birds I found last week but missed for today's
eBird
list were Northern Shrike, Winter Wren, and Rusty Blackbird. On the plus side, I found a Hermit Thrush and Belted Kingfisher. Perched on a limb at the southeast bridge by Century Avenue, a Red-tailed Hawk had its eye on something in the grass. Its back was to me while I was watching it, but just before taking flight it turned around and I was able to get a nice digiscoped photograph of it.
After Pheasant Branch, I stopped at Marshall Park to scope parts of Lake Mendota. There were Tundra Swans, Canada Geese, Common Mergansers, Common Loons, Common Goldeneye, Rudy Ducks, Bufflehead, Canvasback, American Coots, and Mallards.
Pheasant Branch, Dane, US-WI
Dec 10, 2011 10:30 AM - 12:00 PM
32 species
Canada Goose
Bald Eagle
Cooper's Hawk
Red-tailed Hawk
American Kestrel
Sandhill Crane
Ring-billed Gull
Rock Pigeon
Mourning Dove
Great Horned Owl
Barred Owl
Belted Kingfisher
Red-bellied Woodpecker
Downy Woodpecker
Hairy Woodpecker
Northern Flicker
Blue Jay
American Crow
Black-capped Chickadee
Tufted Titmouse
White-breasted Nuthatch
Brown Creeper
Hermit Thrush
American Robin
European Starling
American Tree Sparrow
White-throated Sparrow
Dark-eyed Junco
Northern Cardinal
House Finch
American Goldfinch
House Sparrow
Red-tailed Hawk © 2011 Mike McDowell