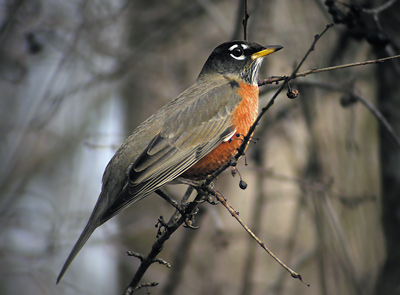 Digiscoped American Robin
The cold temperatures didn't last long. While this unseasonably warm weather streak has been pretty bizarre, it's coming to an end tomorrow with a winter storm warning. We're expected to get up to 8" of snow. I hope we get it so I can go snowshoeing at Pheasant Branch or Pope Farm Conservancy.
With all that's been going on with Operation Migration and my job, I haven't had time to report on my weekend birding. Like many other Wisconsin birders, there are a number of sightings that seem more befitting of spring than January. On December 31st I found a Gray Catbird at Pheasant Branch which was still present on Sunday. I saw a post to the Wisconsin Birding facebook group that Tom Prestby found a Common Yellowthroat at the 1918 Marsh near Picnic Point yesterday. While not totally unexpected, I found a Belted Kingfisher at the new pike breeding site, a Hermit Thrush, Fox Sparrow, and Winter Wren over the weekend at PBC. Though there have been other reports in southern Wisconsin, a pleasant surprise for me was a flock of Common Redpolls found at the Conservancy Condominium feeders. It's been a couple of years since I've seen one. There's also a large flock of American Robins moving about the conservancy in search of berries. Mostly, though, they're feeding on Buckthorn Berries, which isn't exactly good food for them, but it helps get them through winter. In this flock are two leucistic robins; one has a completely white head while the other is more speckled. Hopefully I can get a photo of either of them at some point.
Pheasant Branch, Dane, US-WI
Jan 8, 2012 9:30 AM - 12:00 PM
Canada Goose
Mallard
Red-tailed Hawk
Mourning Dove
Barred Owl
Belted Kingfisher
Red-bellied Woodpecker
Downy Woodpecker
Hairy Woodpecker
Northern Flicker
Blue Jay
American Crow
Black-capped Chickadee
Tufted Titmouse
White-breasted Nuthatch
American Robin
Gray Catbird
European Starling
Cedar Waxwing
American Tree Sparrow
Fox Sparrow
Swamp Sparrow
White-throated Sparrow
Dark-eyed Junco
Northern Cardinal
House Finch
Common Redpoll
Pine Siskin
American Goldfinch
House Sparrow
American Robin © 2012 Mike McDowell