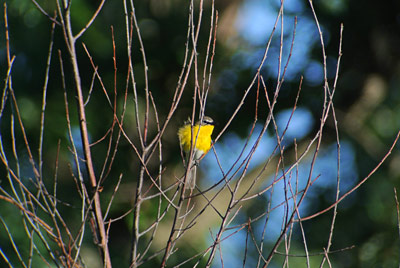 According to my birding records, this is only the third time I've encountered Yellow-breasted Chats at Pheasant Branch Conservancy. The first were found in 2007 and they returned the following spring. They were absent for a few years but once again there is a nesting pair at the oak savanna. They're super fun birds to watch and listen to. I've seen the female emerge from a dense patch of brush a few times and the male has been defending this same spot from avian intruders like Gray Catbirds and Brown Thrashers when they get too close. Presumably, this is where they're nesting.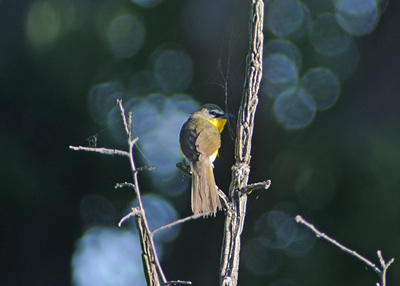 I first heard the chat a few weeks ago while I was digiscoping Dickcissels at the prairie below. I heard the
toots, chirps, churs,
and other funny whistling chat vocalizations (see video below) and immediately recognized it for this species. This particular chat is pretty adept at mimicking Blue Jay, American Crow, and Red-tailed Hawk calls. I've been watching them almost daily, but getting a nice photograph of the chat without disturbing it has been another story. I've been able to capture a few long-distance shots and video clips, but so far no close-up portraiture. However, while waiting in my spot I've been able to digiscope a lot of other birds that have perched in front of me. Check out this video!
All images © 2012 Mike McDowell