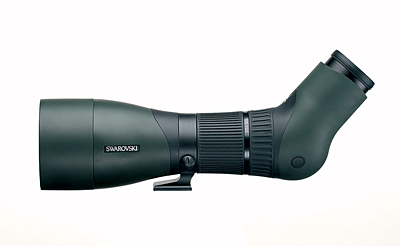 Do
not
adjust your monitor! The images you see are not a hallucination; it's a brand new spotting scope from Swarovski! I had the pleasure of trying out the new Swarovski ATX 25-60x85 spotting scope recently and put it up against the highly revered Kowa 883. My impression? In short, Swarovski has done it again. I found the new scope to be superior to the Kowa 883 in every optical characteristic; better color fidelity, brightness, contrast, resolution, and edge sharpness, making it the
best
optical performer on the market to my discerning eye. And yes, it uses Swarovision field-flattener lens technology.
But there's more!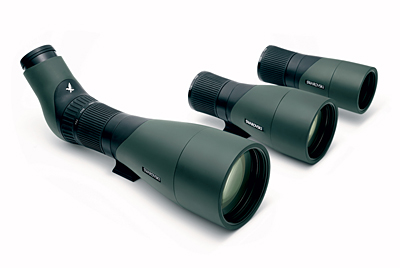 Swarovski has designed an ingenious interchangeable modular ocular and objective system. You can purchase one or more objective modules to use with the ocular module (contains integrated eyepiece and zoom ring). Available objective modules: 65mm, 85mm, and 95mm. This super-cool flexible modular system renders a compact and convenient way for backpack and travel storage without compromising durability or optical performance.
We're not done!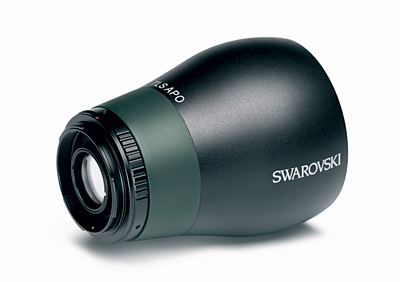 TLS-APO DSLR Digiscoping Adapter
Digiscopers will be pleased with new comprehensive adapters made especially for the new ATX/STX scopes. Theres the
TLS-APO for DSLR cameras
and the
DCBII for point-and-shoot digital cameras
. The TLS-APO is a veritable camera lens that can be used with any DSLR (with an appropriate T-Ring) and slides right over the eyepiece module (see below). The DCBII is a re-invention featuring the best aspects of the original DCB and UCB adapters, but with a much slimmer and more user-friendly design and function.Swarovski also moved the zoom control from the eyepiece to the scope's body near the helical focus so adapters no longer interfere when making magnification adjustments.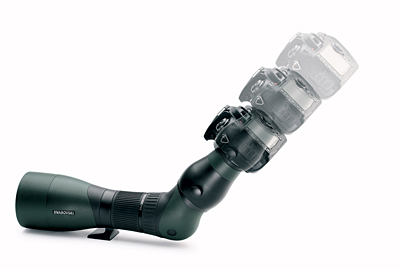 Attaching the TLS-APO with a DSLR camera.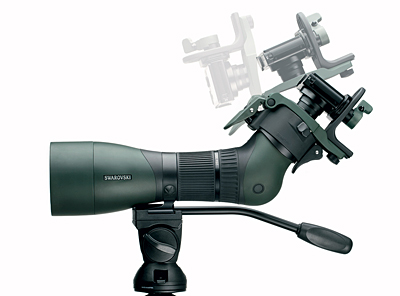 The DCBII Digiscoping Adapter with a P&S camera.
Naturally, these scopes will be expensive ($3,728.00 for the 85mm rig). However, I think the price is entirely justified given the feature and performance advantages you'll experience over everything else that's out there. The ATX should be available sometime this September. I can't wait to get one!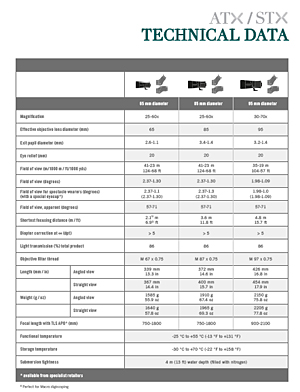 (click on image for full .PDF data sheet)
ATX/STX Videos:
Link:
Official Press Release from SwarovskiOptik
Link:
All about the ATX/STX Scopes from Swarovski
Link:
ATX Scopes on Eagle Optics (pricing)