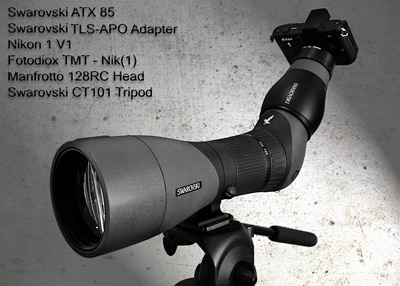 Wow! The resolution on the
Swarovski ATX 85
is simply amazing! This morning I brought my new spotting scope to Pheasant Branch Conservancy on its maiden voyage to obtain samples of ATX-digiscoped images. I haven't decided which adapter to go with yet, so I tested the new Swarovski TLS-APO with my Nikon 1 V1 digital camera. I also intend to test the DCBII adapter with my V1, but I'll need to fashion some type of extension plate because the camera is a little too large with its lens extended for the platform. Look for this in a future blog post. For now, here's the new rig:
Swarovski ATX 85 (25-60x zoom)
Swarovski TLS-APO adapter
Nikon 1 V1 Digital Camera (body only)
Fotodiox TMT – Nik(1) T-Mount
Without a Nikon lens attached, the Nikon 1 V1 must be set to Manual "M" mode when connected to the TLS-APO via a T-Mount, otherwise you'll get a "check lens" message and you won't be able to take an exposure. Manual mode means the only exposure control you have is ISO setting and shutter speed. Also, there is no autofocus with this configuration– you must manually focus all your shots with the scope's focuser. Though I've digiscoped for ages using aperture priority and autofocus, it took only a few test exposures to get used this method. To be sure, the V1's Electronic View Finder (EVF) greatly helps with obtaining a sharp focus.
Here are my first results with the Swarovski ATX: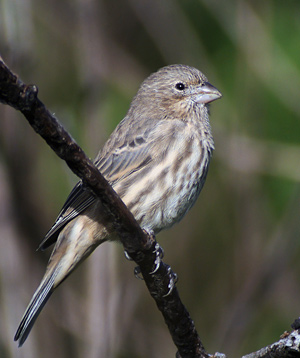 House Finch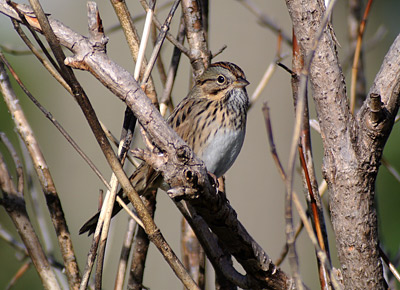 Lincoln's Sparrow
Eastern Phoebe
Eastern Phoebe (
even bigger
).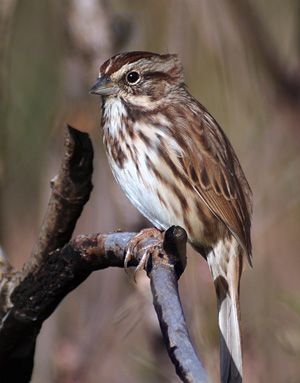 Song Sparrow
Song Sparrow (
even bigger
).
At ISO 200, I was using shutter speeds between 1/200 s and 1/500 s.
Addendum:
A few people have already asked why I didn't go for the ATX 95 for better digiscoping results. At 75.8 ounces, the 95 doesn't weigh much more than the 85 at 67.4 ounces, so why not go for the larger aperture, right? I recognize that the quality of the gear makes a difference with results, but the skill of the photographer is also a factor. I didn't really need the ATX 85 in the first place, so what I got was all gravy for my digiscoping needs. It's a lot brighter than my original AT80 HD, but that old gray scope is still an excellent optical device I'll continue to cherish. I guess what really hooked me is when I heard Clay Taylor of Swarovski mention that the TLS-APO adapter was optimized for the 85. I don't know exactly what that means from a technical standpoint, but he sold me on it as the ultimate digiscoping rig. There are other reasons, though. I prefer the focal length range of the 85 at 750-1800mm compared with the 95's 900-2100mm when using the TLS-APO adapter (it's a little higher once the Nikon 1 V1 is attached). As a digiscoper of 12 years, I have always favored lower magnification to high, which is why I used the 20-60x zoom at 20x for the overwhelming majority of my digiscoped images. Lastly, birding also factored into my decision and I enjoy using a wide field of view when scanning for shorebirds or waterfowl. Since the zoom on the 95 starts at 30x, it has a narrower field of view (104 ft @ 1,000 yards) compared to the 85 at 25x (124 ft @ 1,000 yards). And then there's the fact I work at Eagle Optics and will likely have access to an ATX 95 objective module just about any time I like!
All images © 2012 Mike McDowell