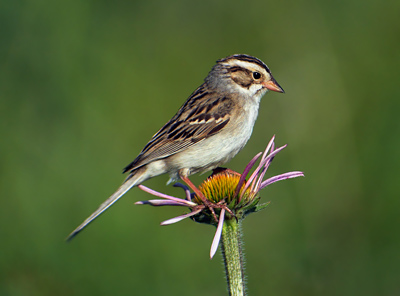 Clay-colored Sparrow at Pope Farm Conservancy
Last night I received an email that an online petition has been initiated to allow dog-walking at
Pope Farm Conservancy
. Like Pheasant Branch Conservancy, Pope Farm's
pristine prairies and savannas
are fantastic bird breeding habitat for dozens of sensitive and declining grassland species, including Clay-colored Sparrow, Field Sparrow, Vesper Sparrow, Eastern Kingbird, Eastern Meadowlark, and occasionally Henslow's Sparrow. There is scientific evidence that birds perceive dogs as predators and can have an adverse impact on bird populations.
One 2007 study
reported by UNSW biologist Peter Banks showed that dog-walking in natural areas caused a 35% reduction in bird diversity and nearly a 40% reduction in abundance.
Once park rules are changed to allow dog-walking on-leash, you can expect the number of off-leash pets to rise. This would be a potential threat to the grassland birds that nest at Pope Farm. Some pet owners simply cannot resist the temptation and allow their dogs to run off-leash once they're away from trail entrances. I've seen it too many times. Rule compliance issues have been a documented fact at Pheasant Branch Conservancy over the past decade. It's become such a problem that
Dane County Parks posted new signs
just this year threatening to close the park to dog-walking if irresponsible pet owners continue to allow their animals to run off-leash.
Mel Pope comments:
"For over six years, dogs on leash were allowed in Pope Farm and Goth Parks. Unfortunately geography and line of sight issues in these parks rendered the leash law unenforceable. The damage done by dog owners violating the leash law resulted in damage to wildlife habitat and nesting areas, and resulted in many complaints from park users. The Board of Supervisors took action to correct this in 2006, and prohibited dogs in these environmentally sensitive areas. Since that occurred, these parks have been upgraded to conservancy level. Usage has increased, and there has been a great surge in wildlife. By signing this petition I ask that you continue to protect these two pristine conservancies by maintaining the prohibition against dog use."
Nip this in the bud and keep the "No Dogs" rule at Pope Farm Conservancy!
Link:
My counter-petition at Change.org
Link:
Vanishing Voices
Clay-colored Sparrow © 2012 Mike McDowell