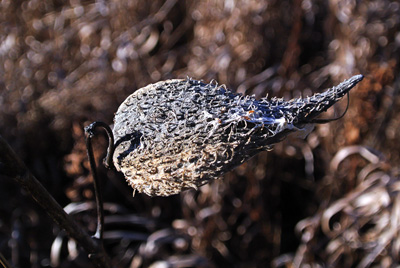 It was a mere eight degrees Fahrenheit by the time I set foot on the prairie this morning. Last night I wasn't even sure I was going to go birding in the morning for the promise of intimidating cold weather. But I knew that Northern Shrike would likely be there and most other conservancy users would probably stay inside until it warmed up a little more.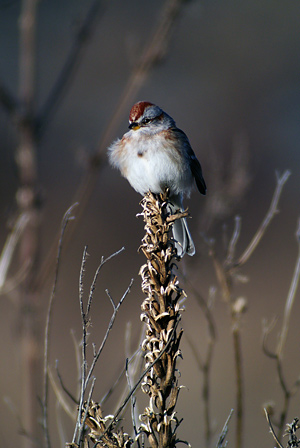 American Tree Sparrow
I made my way down the main gravel path and found a large flock of American Tree Sparrows near the centrally located kiosk. The sprightly sparrows also had a few Dark-eyed Juncos and at least one White-crowned Sparrow with them. It's exceedingly more challenging to get sharp photographs when it's so cold. My eyes tend to water. Plus, I didn't allow any time for my spotting scope to acclimatize; internal turbulence hadn't settled before I started digiscoping the sparrows.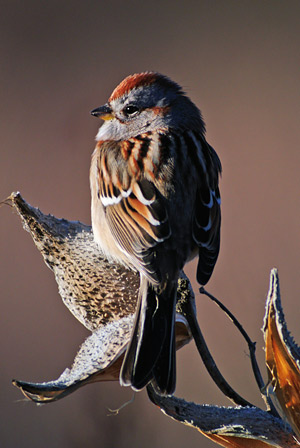 American Tree Sparrow
After getting a few nice sparrow photographs, I decided to make my way toward the back of the prairie in search of the shrike. It wasn't long after that a harsh series of recognizable call notes got my attention.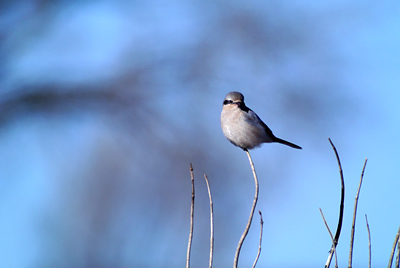 Northern Shrike
It was the shrike! Unbelievably, two American Goldfinches perched a few feet away from it. Were they going to
try
and harass it? At first the shrike paid little attention, but without warning it gave chase. Remarkably, the finches got away, but at the same moment an American Crow was flying toward the drumlin, and so the shrike went
after
it! I tried to follow the action in my binoculars, but eventually lost both birds in the sun's glare. I seriously doubt the crow had anything to worry about, but what an attitude!
Scanning with my binoculars, I relocated the shrike perched in the oak trees about halfway down the drumlin's slope. To my astonishment, it took flight and headed in my direction. There was a Blue Jay in some dense tangle behind me and that was the shrike's target. It was so amazingly cool watching it fly toward me in my binoculars. In a matter of seconds, the shrike flew within a dozen feet of me and entered the thicket to chase the jay. But then a second Blue Jay arrived on the scene which appeared to weaken the shrike's resolve, prompting it to make the return trip back to the oaks. Retreat? Nah!
It had been an hour or so that I last saw the shrike when it appeared out of nowhere, darting across the width of the prairie, perching in the oak tree near the parking lot. It seemed intensely interested in something in the tangle of brush just below. Suddenly, the ferocious songbird dropped from its perch like a small missile. I lost sight of it for a few seconds, but when it reemerged it had a small rodent pinched in its bill, perhaps a shrew or vole. The shrike made quick work of things by using one foot and branches to impale its prey, then pulling back to tear it apart.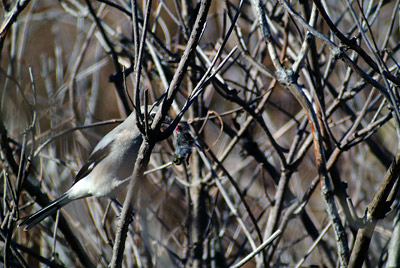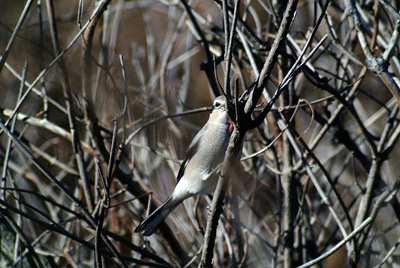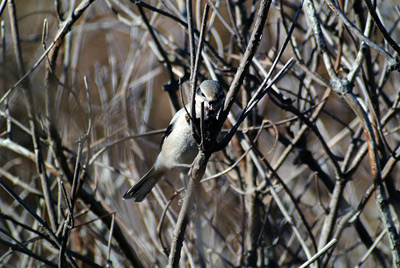 No wonder they're sometimes called butcher birds!
Pheasant Branch, Dane, US-WI
Nov 24, 2013 8:00 AM - 12:00 PM
31 species
Canada Goose
Mallard
Ring-necked Pheasant
Northern Harrier
Red-tailed Hawk
Rough-legged Hawk
Sandhill Crane
Ring-billed Gull
Rock Pigeon
Mourning Dove
Red-bellied Woodpecker
Downy Woodpecker
Hairy Woodpecker
Northern Shrike
Blue Jay
American Crow
Horned Lark
Black-capped Chickadee
White-breasted Nuthatch
American Robin
European Starling
Lapland Longspur
American Tree Sparrow
Song Sparrow
White-crowned Sparrow
Dark-eyed Junco
Northern Cardinal
Red-winged Blackbird
House Finch
American Goldfinch
House Sparrow
All images © 2013 Mike McDowell