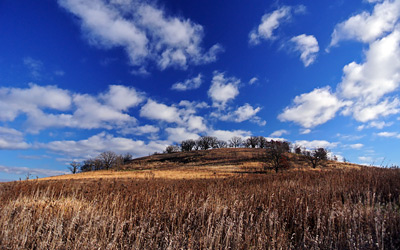 Windy conditions kept most songbirds low in the grass, but my first Northern Shrike of the fall season may have also played a role in their apparent nervousness. I found the shrike within a few minutes of arriving at the prairie. It flew from a bush along the road to the middle of the prairie and perched in some dead plants near the second retention pond. The fierce hunter didn't remain stationary for long; something caught its attention and off it flew in quick pursuit. Goldfinches and tree sparrows beware!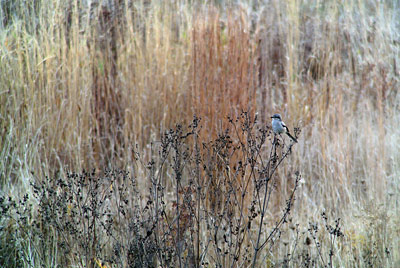 Northern Shrike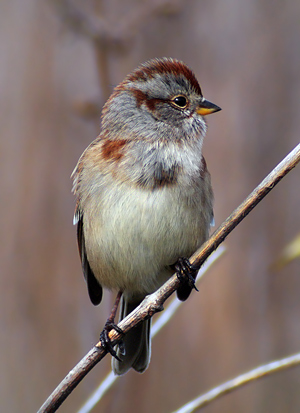 American Tree Sparrow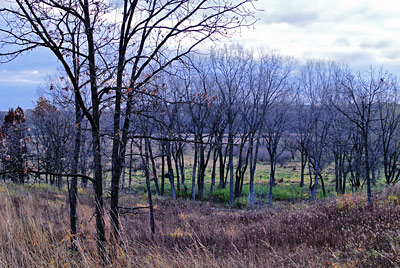 To escape the blustery winds, I retreated to the woods north of Century Avenue. Almost all the trees are bare and parts of the forest floor are covered with leaves. Many White-throated Sparrows and American Tree Sparrows have taken up residence along the end of the creek corridor near the condos. This is where a good number of them will spend the entire winter. There's a small springs that remains open, lots of nearby stocked bird feeders, plus excellent cover from predators.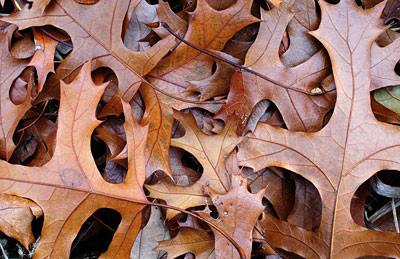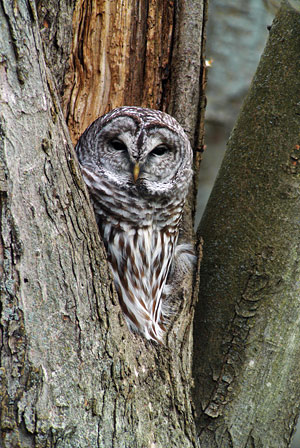 Barred Owl
This venerable Barred Owl was discovered at one of its usual roosting trees. After taking a few quick photographs of the owl from the trail, I decided to observe it from a distance with my spotting scope. The stoic bird went unnoticed by everyone who walked, jogged, or bicycled past.
Why would they ever think to look up in a tree
? The owl's reaction to noisy people was a little comical; it would open its eyes as wide as possible and crane its neck around the tree to make sure they were leaving. A few times when its concern seemed somewhat elevated, I thought for sure it was going to fly off. Eventually, a yawn was followed by closed eyes, and then rest. A few times falling leaves captured its attention. When a flock of geese flew overhead, it looked up at them. I think it's worthwhile to be reminded as we're walking through the forest that we're passing through the homes of woodland critters.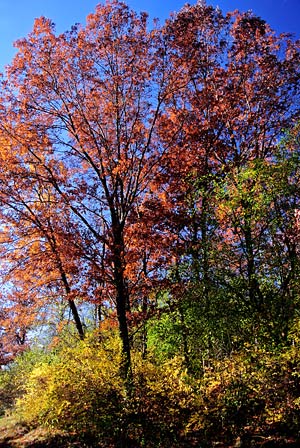 While we're well past peak, there are still a few patches of striking fall colors.
All images © 2013 Mike McDowell