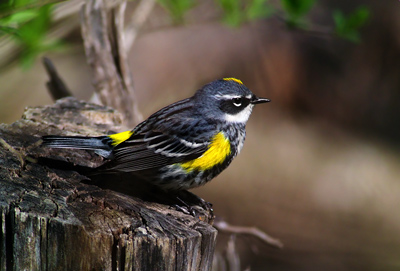 Yellow-rumped Warbler
Warbler activity was a little light at Pheasant Branch yesterday, so I decided to spend the rest of my day exploring other nearby nature haunts. While Yellow-rumped warblers appear to be thinning out, recent new arrivals include Yellow Warbler, Cape May Warbler, Blackburnian Warbler, and Magnolia Warbler. It's nice to see the little wood warblers decorating the creek corridor once again, even if only for a short time. Every spring migration seems to have its own timing and pace and this year it seems like birds are moving through with greater urgency.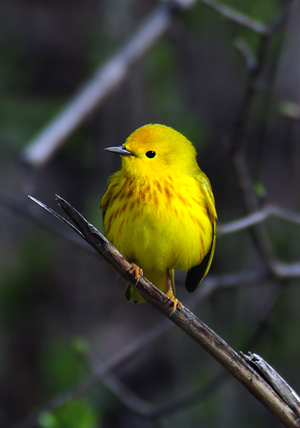 Yellow Warbler
With an entire day to spend at my whim, I headed to Baxter's Hollow to see how the spring ephemerals were coming along. A week ago there was only Bloodroot in bloom, but this time the forest floor was dotted with a variety of beautiful wildflowers. Otter Creek at Baxter's Hollow is a wonderful place to be idle and listen to the burbling water. Signs of regeneration and rebirth are everywhere, but also reminders that everything must pass through the filter of time.
Baxter's Hollow - Otter Creek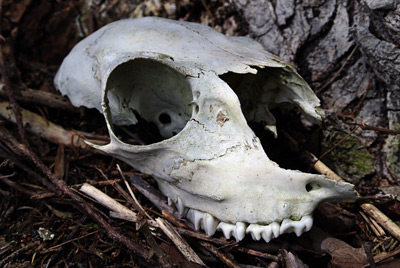 White-tailed Deer skull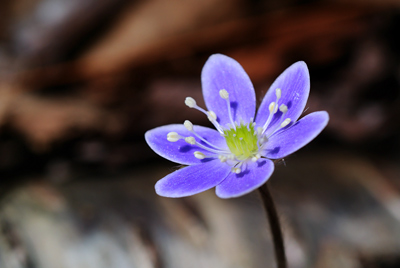 Round-lobed Hepatica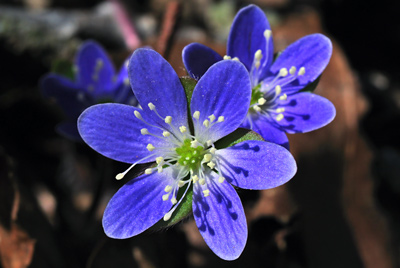 Round-lobed Hepatica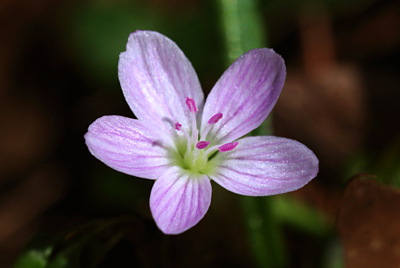 Spring Beauty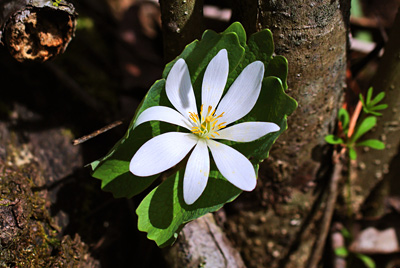 Bloodroot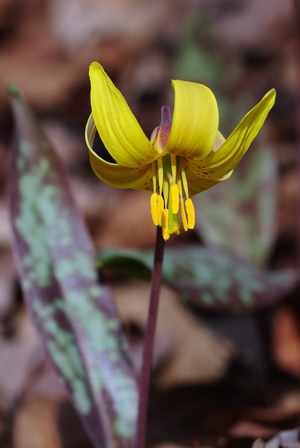 Trout Lily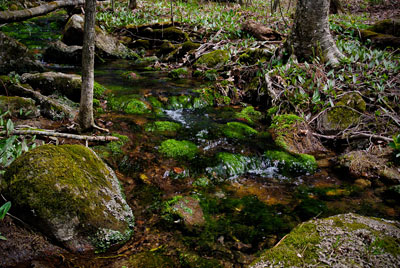 A little further up the creek I began hearing the songs of dueling Louisiana Waterthrushes. Though it's serious business for the waterthrushes, observing their territorial antics can be quite entertaining. One bird was defending a small pond adjacent to Otter Creek while another challenged him from higher up in the branches. Several times the 'keeper of the pond' chased his unwelcome rival through the woods, and each time they ended up squaring off on a branch, blasting their songs at one another. There was an abatement of hostilities, but I was certain it would be temporary. Eventually, both birds disappeared further down the creek.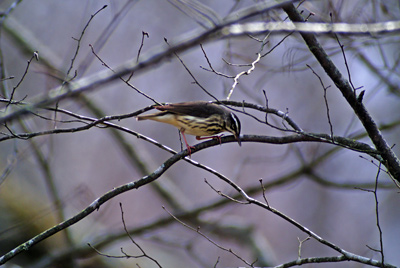 Louisiana Waterthrush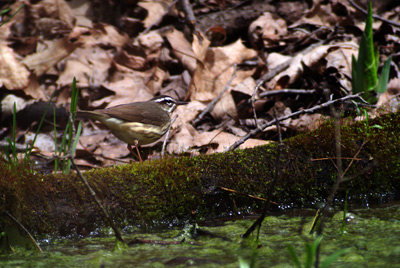 Louisiana Waterthrush
The next stop on the day's itinerary was
Spring Green General Store
for lunch, and then off to my first visit of the season to Wisconsin's desert prairie. Since I'm a bit of an emberizidphile, I wanted to check on the preserve's many sparrow species. At first glance the preserve's prairie didn't appear to have much color, but it was illusory. Closer inspection revealed a variety of wildflowers in bloom. The preserve's plant diversity and phenology is remarkable.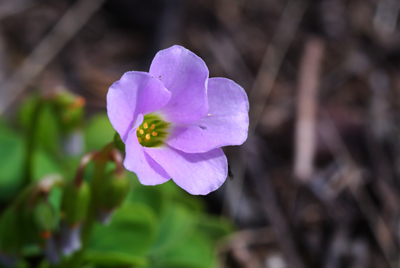 Violet Wood Sorrel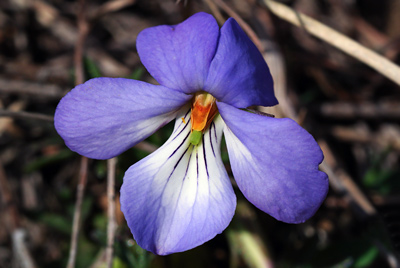 Birdsfoot Violet
It didn't take long to find some sparrows. Lark Sparrows were on territory singing their magnificent trills and buzzy songs. There were Field, Grasshopper and Vesper Sparrows present, too. It was very windy so most of the sparrows were staying fairly close to the ground.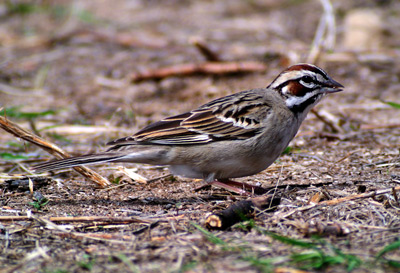 Lark Sparrow
As I've previously written on this blog, Spring Green Preserve is a great place to observe and photograph Tiger Beetles. Oblique-lined and Festive were the only species found. As many as eight different kinds can be observed at the preserve; I've seen all but two of the ferocious little insects.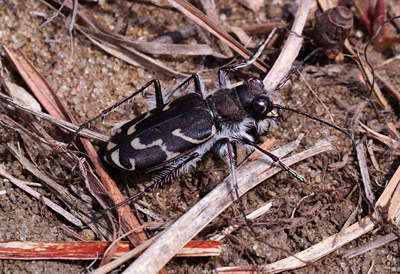 Oblique-lined Tiger Beetle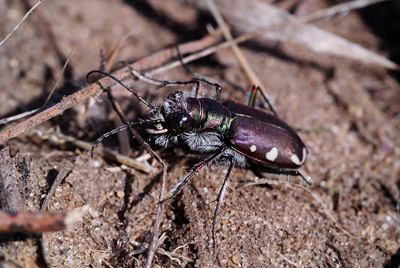 Festive Tiger Beetle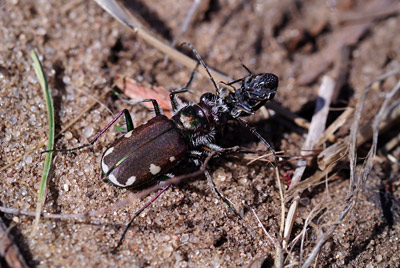 Festive Tiger Beetle with prey
A final stop was made at the Arena boating landing to look for Prothonotary Warblers, but settled for a cooperative Solitary Sandpiper perched on a log alongside the road. I often see this particular shorebird species at the creek corridor of Pheasant Branch during migration.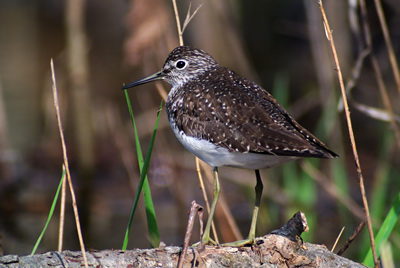 Solitary Sandpiper
It was a very rewarding day of documenting and appreciating a couple of southern Wisconsin's finest natural areas. Viewing and photographing Nature is the easy part, but putting a blog together is more of a challenge and takes up a substantial portion of my time. With May being such a busy time of the year, I'll do my best to keep the blog posts coming.
All images © 2014 Mike McDowell