"To absorb a thing is better than to learn it, and we absorb what we enjoy. We learn things at school, we absorb them in the fields and woods and on the farm. When we look upon Nature with fondness and appreciation she meets us halfway and takes a deeper hold upon us than when studiously conned."
~ John Burroughs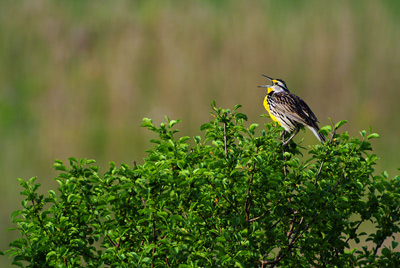 Eastern Meadowlark
It's time to say farewell to what has undoubtedly been one of the best spring migrations I've ever experienced. The warbler parade along the creek corridor has finally faded. Yesterday I had just one Mourning Warbler and one Ovenbird, and today
none
. The three nesting warbler species have moved out of the corridor to their breeding territories at the prairie and savanna near the north end of the conservancy. That's where the Common Yellowthroats and Yellow Warblers will spend the remainder of spring and summer. A few American Redstarts nest in the woods north of Century Avenue, especially on the east end near the pike spawning area.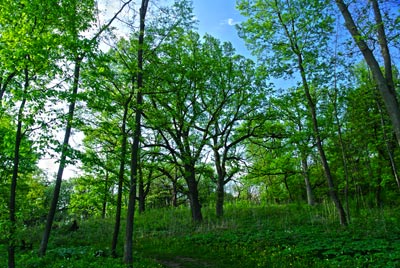 Governor Nelson State Park
My attention now shifts to birds that nest at the conservancy, some of which have been around since early April. Additionally, a greater assortment of wildflowers and insects are available for macro photography. With a few days off from work, I spent some time exploring other nearby natural areas like Governor Nelson State Park and Indian Lake Park. At the latter, I've been trying to locate Cerulean Warblers. They've nested at Indian Lake in the past, but I've had absolutely no luck finding them so far this spring.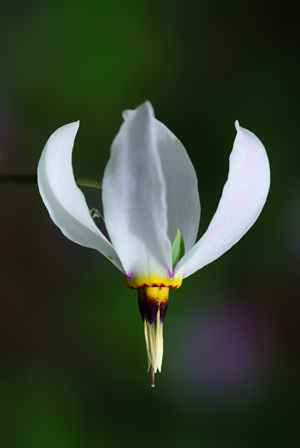 Eastern Shooting-star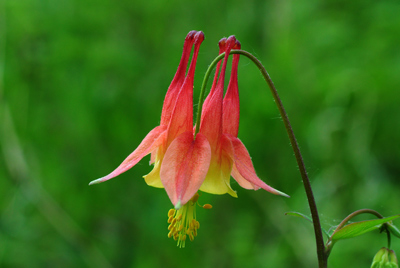 Columbine
Rue-anemone
Clay-colored Sparrows have apparently vanished from Pheasant Branch Conservancy. The one below was photographed a few days ago at Governor Nelson and they're also present at Pope Farm Conservancy. I have no idea why they're no longer at Pheasant Branch because the habitat seems ideal at the prairie and savanna. They were steadily increasing in numbers, but began dwindling the past few years. I thought it might be attributed to drought conditions, but that doesn't explain why they have seemingly healthy populations only a few miles away at other locations. Perhaps there's too much competition with the Field Sparrows. In any case, it's a mystery I doubt I'll ever solve. Maybe one day the diminutive
buzz-buzz-buzz
sparrows will return to Pheasant Branch.
Clay-colored Sparrow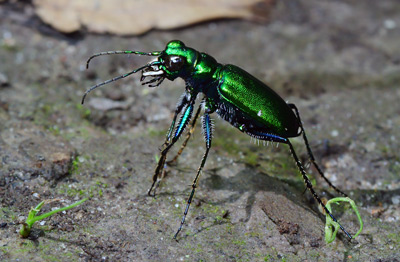 Six-spotted Tiger Beetle
Six-spotted Tiger Beetles are patrolling the trails at Indian Lake Park. It requires a special attentiveness as one walks to avoid flushing these little speed demons. Practice, patience, and a slow approach are three necessary ingredients for getting close-up macro photographs of these beautifully ornate and ferocious beetles. Spring Green Preserve hosts eight kinds of Tiger Beetles and I suspect I'll be making a trip there in the near future.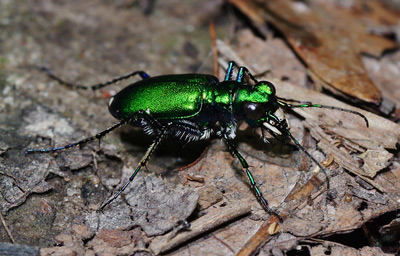 Six-spotted Tiger Beetle
From now until August I'll enjoy my time walking along the trails of grassy fields and shady forests. We're very fortunate in southern Wisconsin to have so many wonderful natural areas where there is an abundance of flora and fauna for the naturalist (and photographer) to admire, appreciate, document, and respect. Wherever you are, there's probably even a small woodlot or grassland nearby. Take a day off and do some exploring of your own. You don't have to go far to see and enjoy great things!

Indian Lake Park
All images © 2014 Mike McDowell