During sunrise this morning, the underside of a narrow band of clouds became decorated with brilliant orange highlights. Too bad I wasn't yet at the conservancy as it would have made a stunning photograph with the drumlin in the background. It was windy. By the time I arrived at the conservancy, the fast-moving cloud layer had already blocked the sun. Skies were clear to the west, so I knew the sunlight would return momentarily. As I photographed frost-coated wildflowers, an American Kestrel flew overhead, sending several American Tree Sparrows for cover. When the danger level subsided, the sprightly sparrows returned to their perches and resumed calling
teedle needle teedle-eet
. Once the sunlight returned, their little voices gained energy.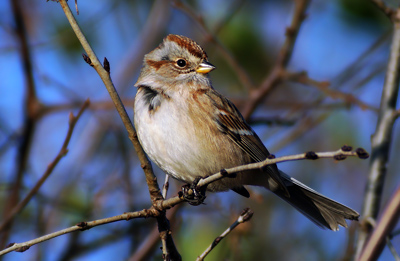 American Tree Sparrow
I found a group of five White-crowned Sparrows, consisting of one adult and four hatch-year birds. These very well could be the last of this species I'll see until spring. I do occasionally find them at the conservancy during winter, as was the case last year. Years ago, I recall seeing one at the prairie during a blizzard. The hearty sparrow was clinging to a goldenrod plant, successfully eating its seeds while getting pelted with snow. The durable sparrow endured.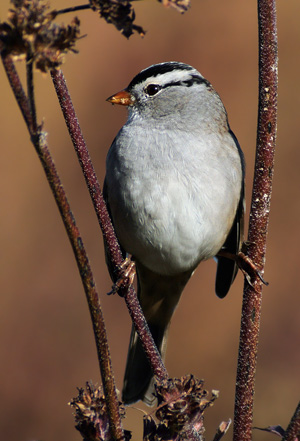 White-crowned Sparrow
I found this majestic Red-tailed Hawk perched on an oak tree atop the drumlin. The young raptor was unfazed by a couple of joggers that went by. I invited one of the joggers to take a peek through my spotting scope at the bird. By his accent, I guessed he was probably originally from Australia or New Zealand. After being thrilled by the scope view, he asked if he should run back to the trailhead in the opposite direction so not to disturb the hawk. I told him so long as he didn't stop or make eye-contact, it would likely remain perched. And so it stayed!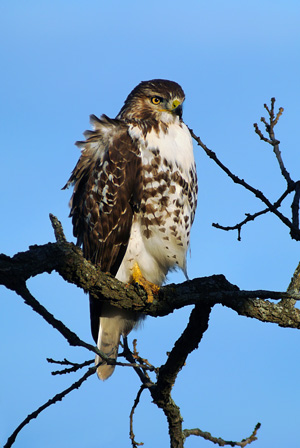 Red-tailed Hawk
Dozens of Sandhill Cranes remain at the conservancy. During mild weather they'll roost in the marsh until early December. Somehow I don't think that's going to be the case this year. Each morning they depart the marsh and head to the adjacent agricultural fields to forage for food. It's nothing like the spectacle on the Platte River in Nebraska, but a hundred calling cranes can still put on quite a show!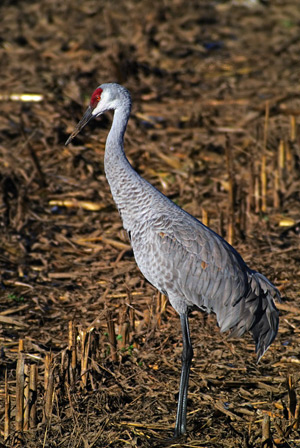 Sandhill Crane
Pheasant Branch, Dane, US-WI
Nov 2, 2014 6:45 AM - 9:00 AM
36 species
Canada Goose
Mallard
Blue-winged Teal
Ring-necked Pheasant
Northern Harrier
Cooper's Hawk
Red-tailed Hawk
Sandhill Crane
Ring-billed Gull
Rock Pigeon
Mourning Dove
Red-bellied Woodpecker
Downy Woodpecker
American Kestrel
Blue Jay
American Crow
Horned Lark
Black-capped Chickadee
White-breasted Nuthatch
Eastern Bluebird
American Robin
European Starling
Snow Bunting
American Tree Sparrow
Fox Sparrow
Song Sparrow
Swamp Sparrow
White-throated Sparrow
White-crowned Sparrow
Dark-eyed Junco
Northern Cardinal
Red-winged Blackbird
House Finch
Pine Siskin
American Goldfinch
House Sparrow
All images © 2014 Mike McDowell