"You must live in the present, launch yourself on every wave, find your eternity in each moment. Fools stand on their island of opportunities and look toward another land. There is no other land; there is no other life but this."
― Henry David Thoreau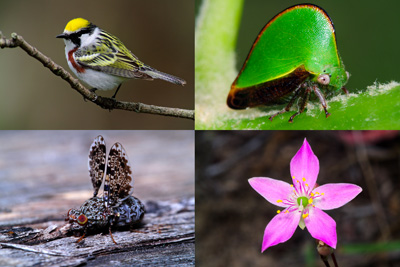 2014 was filled with so many awesome discoveries and experiences in Nature it's almost impossible to select just a few highlights ... but I'm going to try! I think the most amazing thing this past year was the incredible warbler activity along the Pheasant Branch Creek corridor during mid-May. Not only did I digiscope over 20 warbler species, I got pretty
decent quality images
of them! The cold spring played a role by sending the warblers to the understory for insects. My favorite was a
female Black-throated Blue Warbler
Dottie Johnson referred to as "Lady." The warbler remained at the same bend along the creek corridor for about a week on account of unfavorable weather for migration.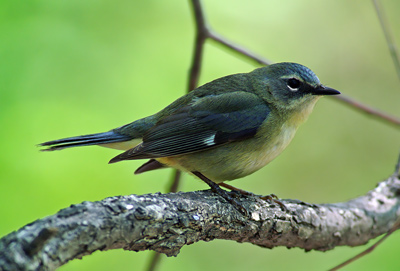 "Lady"
Perhaps the second coolest thing was the
amazing treehoppers
Mark Johnson and I found at Spring Green Preserve, Pleasant Valley, Pheasant Branch, and other locations. If you search the right plants, you find the
right bugs
. Without a doubt, though, the neatest insect discovery made in 2014 was the
Peacock Fly
at Pheasant Branch Conservancy. What a strange and adorable little insect! I had no idea they even existed. I really should have taken HD video of them because it's their fascinating wing displays that adds to their intrigue and mystique.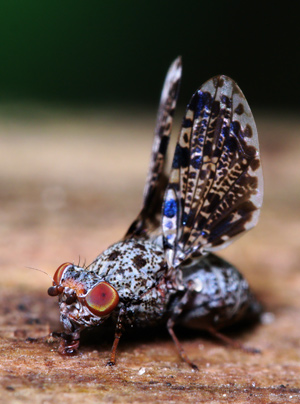 Peacock Fly
After many failed attempts, I
finally
got to see a Prairie Fame Flower in bloom at Spring Green Preserve. Sylvia Marek found the plants a couple of years ago, but they were never open during any of my visits. Finally, Cynthia Bridge found some on the western unit where the
Blue Grosbeak
was being seen, but one had to be there at the right time of day. What a fantastic wildflower!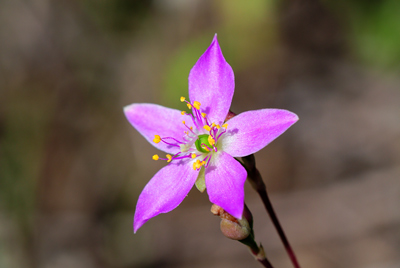 Not particularly rare, but this Paonias Sphinx Caterpillar is one of my favorite photographs from 2014. I really like the way the morning sunlight illuminated its body.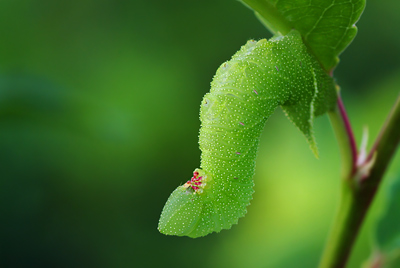 Other 2014 highlights include:
Virginia Big-headed Tiger Beetle
- LIFER
Townsend's Warbler at Pheasant Branch
- LIFER
Puddling Giant Swallowtails
The Creek Corridor Red Fox
Hermit Thrushes in the Snow
Spring Lunar Eclipse
The Creek Corridor Carolina Wren
* * *
Sadly, we lost
George Austin
this year, in fact just a couple weeks ago. George was a fixture during spring and fall migration at Pheasant Branch Conservancy and attended many of my field trips, which is how I first met him many years ago. I know of no negative qualities regarding his character. His cheerfulness and high intelligence was inspiring, but it was his incredible kindness I will never forget. His wife Shirley wrote me last week letting me know George had passed on, adding these words near the end of her letter:
"George really admired you, Mike, and learned so many things from you about bird watching. He spent many wonderful mornings with you bird watching. Thanks so very, very much for everything you did for George!"
I will miss George's smiling face and enthusiasm for birding at the conservancy creek corridor for as long as I continue to bird there. We also lost Larry Jaeck, a birder introduced to me by George. Larry had been trying to get a Black-throated Blue Warbler as a life bird for a couple of years. I was finally able to put him on one this past spring, but he died of a massive heart attack only a few weeks later.
Life is short ... bird often!
All images © 2014 Mike McDowell