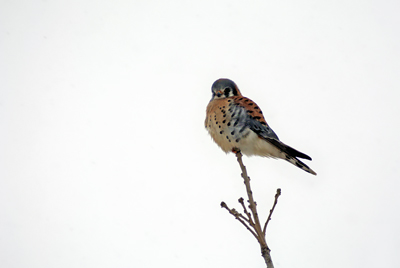 American Kestrel
Saturday was awesome weather-wise, but Old Man Winter renewed his commitment with the calendar over the past few days. We got over half a foot of new snow on Sunday and then a few more inches yesterday. Still not quite feeling 100% recovered from my illness, I limited my first bird outing of February to just the prairie parcel of Pheasant Branch Conservancy.
This American Kestrel was the most exciting bird of the day. It was hunting over the prairie along Pheasant Branch Road and eventually came up with a small rodent which it consumed atop a telephone pole. It seemed to favor this particular tree and returned to the perch several times. Other birds included Song Sparrow, American Tree Sparrow, Red-tailed Hawk, American Robin, Northern Cardinal, American Crow, Canada Geese, and Mallards. No White-crowned Sparrows were found, but they might still be around.
Something I've been thinking about for several months is what to do about February 23th. On that day this blog will celebrate an entire decade of publication. Part of me would like to retire from blogging, but I know I'm likely to have something to share here and there. February seems like an odd time to stop. Perhaps after spring migration? However, I might just publish to Facebook. Being inclined to determinism, I'll just wait and see what I end up doing!
American Kestrel © 2015 Mike McDowell