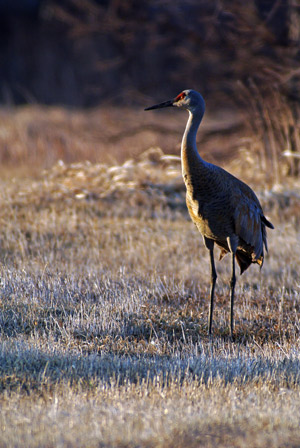 Sandhill Crane
The past few days we've witnessed the return of more migratory birds to southern Wisconsin. Gorgeously sweet Eastern Meadowlarks and their "
spring of the year
" songs have returned to the fields along the North Fork trail. Other new birds (for me) included Eastern Bluebird, Hooded Merganser, Bufflehead, Turkey Vulture, and American Woodcock. I tallied 47 bird species during Saturday's five-mile hike at the conservancy. Sandhill Crane, American Robin, Song Sparrow, and Red-winged Blackbird numbers continue to increase. The serenading voices of the prairies and woods are even more enjoyable and relaxing to listen to. Yesterday I admired a Song Sparrow's song that had an intro phrase sounding not unlike a Spotted Sandpiper's call!
Where did you learn that?
, I wondered.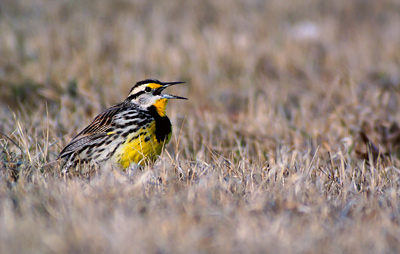 Eastern Meadowlark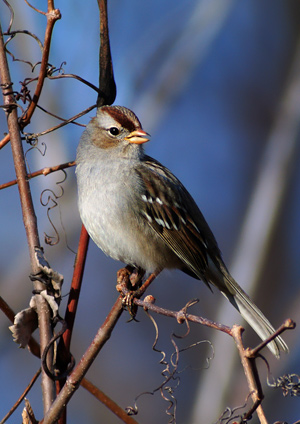 White-crowned Sparrow
The young White-crowned Sparrows successfully overwintered at the prairie parcel of Pheasant Branch. As I've stated before, I'm not used to having a group of them stay throughout winter so I'm not entirely sure when they'll return north. Perhaps they'll leave about the same time as the American Tree Sparrows do. Checking Birds of North American online, apparently these sparrows don't attain definitive basic plumage until sometime in May.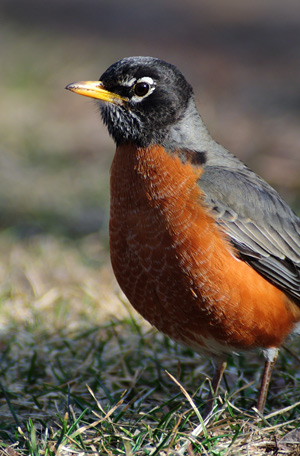 American Robin
This rather plump American Robin was foraging just outside the entrance to the creek corridor. Though I backed away so I could frame the entire bird, it kept moving toward me as it foraged for a meal. As my co-workers know, I admire their
sprint, pause, stop, look and listen
foraging strategy so well that I can perform a pretty fair impression of it!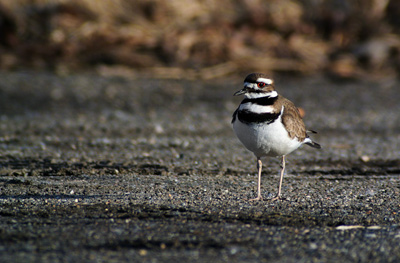 Killdeer
Killdeer ... the underrated shorebird. These ones were relaxing near the parking area of the North Fork trail. The lighting made for some nice portraits and they were fairly cooperative subjects.
Killdeer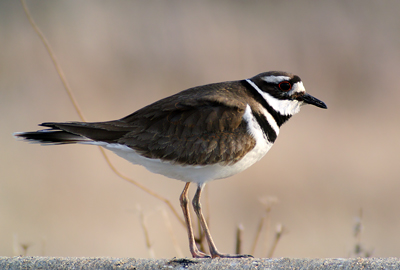 Killdeer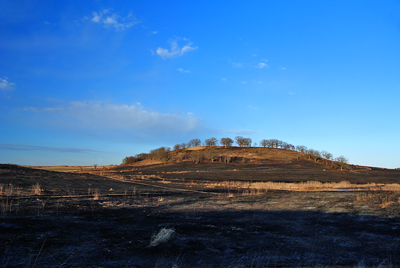 Pheasant Branch Prairie ... burned!
I'm glad they got the burn in early this year!
Pheasant Branch, Dane, US-WI
Mar 21, 2015 7:30 AM - 12:30 PM
47 species
Canada Goose
Green-winged Teal
Bufflehead
Hooded Merganser
Ring-necked Pheasant
Great Blue Heron
Turkey Vulture
Cooper's Hawk
Bald Eagle
Red-tailed Hawk
Sandhill Crane
Killdeer
Ring-billed Gull
Rock Pigeon
Mourning Dove
Great Horned Owl
Red-bellied Woodpecker
Downy Woodpecker
Hairy Woodpecker
Northern Flicker
American Kestrel
Northern Shrike
Blue Jay
American Crow
Horned Lark
Black-capped Chickadee
Tufted Titmouse
White-breasted Nuthatch
Brown Creeper
Eastern Bluebird
American Robin
European Starling
American Tree Sparrow
Song Sparrow
Swamp Sparrow
White-throated Sparrow
White-crowned Sparrow
Dark-eyed Junco
Northern Cardinal
Red-winged Blackbird
Eastern Meadowlark
Common Grackle
Brown-headed Cowbird
House Finch
Pine Siskin
American Goldfinch
House Sparrow
All images © 2015 Mike McDowell