And just like
that
... it's over. May, the apex month of spring migration, arouses feelings of exhilaration among birders and the time just flies right on by. Though migration will continue on a much lower scale into early June, the songbird species that nest in the boreal forests of Canada are well through southern Wisconsin.
Early this morning, Dottie, Sylvia, and I decided to check a few places for warblers on territory in the Madison area. First, we birded the overlook woods at Pheasant Branch to see if the Hooded Warbler I found a few days ago was still present, but no luck. The Picnic Point Prothonotary Warblers were next on our itinerary, but we didn't find them either. However, our fortune changed at the UW Arboretum's Lost City. We heard a singing Hooded Warbler just a few dozen yards down the trail and attempted to pinpoint his position.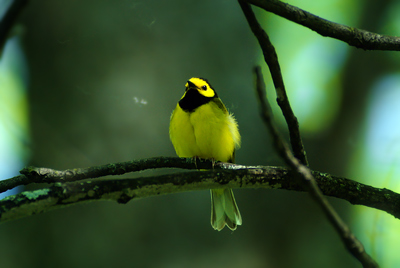 It was challenging. The thick forest foliage kept the bird concealed and its song was sounding more distant, until eventually we couldn't hear it. Ever the optimist, Dottie was convinced it would return, so we waited for it to make a loop. Several minutes passed when a all of a sudden the warbler's
"the red, the red, the red t-shirt"
song rang out from directly over our heads. That sneaky bird! It moved quickly eastward along the trail, so we followed. Dottie eventually found it singing away on an open branch and I worked fast my with digiscoping rig – I knew the bird wouldn't stay long.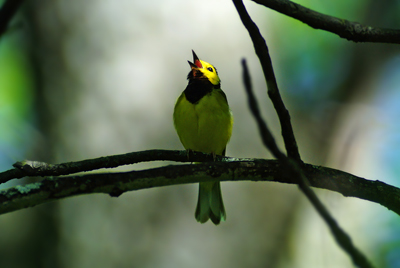 A fantastic finale to May!
Many Wisconsin birders (myself included) were a little disappointed by the early leaf-out, which significantly degraded how well birds could be seen and photographed. For those who bird by ear, though, final results revealed a fairly typical migration. Below are "Species Totals" charts I generated from eBird showing my May warbler results at Pheasant Branch Conservancy. As I've previously mentioned, 2014 was an anomaly; it will probably be a while before we experience another migration like that one. However, the 2012 and 2013 charts are not significantly off from this spring's diversity and numbers: