"Summer afternoon ― summer afternoon; to me those have always been the two most beautiful words in the English language."
― Henry James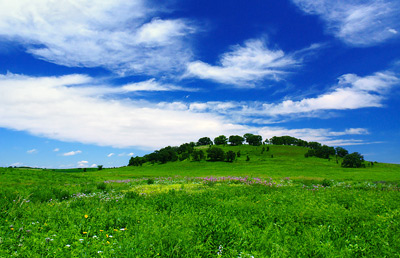 Pheasant Branch Conservancy - Prairie Parcel
I couldn't have asked for a better way to ring in the Summer Solstice. After celebrating Father's Day brunch with family at
Craftsman
, I spent most of the afternoon at Pheasant Branch Conservancy enjoying the splendor of wildflowers and songbirds. Though birdsong at this time isn't quite as exuberant as the morning chorus, Dickcissels, Common Yellowthroats, Orchard Orioles, and Song Sparrows provided the musical arrangement during my jaunt around the prairie.
Dickcissel
After the Pope Farm Conservancy field trip on Saturday morning, it occurred to one participant to ask me what it's like to be able to hear so many bird vocalizations at once. The way that she meant it, though, was that it must be difficult to concentrate if one's hearing is always attuned to so many different sounds. And what's it like when I'm
not
birding.
First, if you've been birding by ear for a long time, you're
always
ready to receive a bird's voice; songs and calls seem to cut through everything else. Maybe it's just a matter of getting older, but it has become more difficult for me to tolerate loud music, traffic and city sounds, and noisy crowds. I spend so much time in Nature's tranquility that it has become my default and preferred state.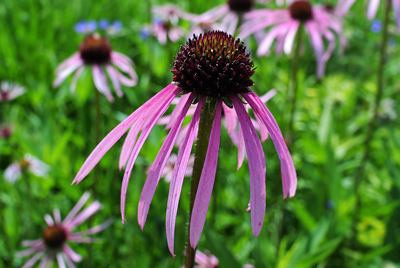 Purple Coneflower
I've longed considered birding in solitude a form of mindfulness meditation. I realize it doesn't need to be that way for everyone who appreciates birds, but there are moments in Nature that arrive to my consciousness in layers, waves, and narratives as my footsteps draw scenery closer and birdsong clearer. Even just after a few minutes at a woods or prairie, I begin to form a mental map of where various species of birds are located. Most of the time I'm content merely knowing that they're present. If it's something unusual or a species I want to include on my blog, I will try to seek it out. During a field trip it's different because I want all the participants to see or hear the birds that are present, so there's a lot of talking on my behalf in an attempt to get them on it.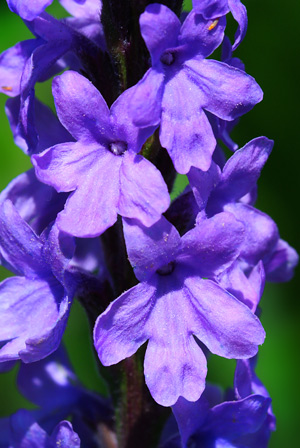 Hoary Vervain
I thought it was an interesting question because it's something I don't really think about. In the way I described it to her it sort of reminded me of Daredevil, the Marvel superhero who is blinded by an accident as a child but has his remaining senses heightened, especially his sonar-like hearing. Not only do I know the location of the birds from their voices, but also what they're doing.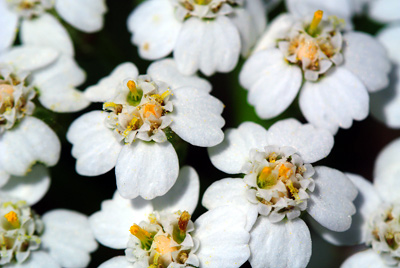 Queen Anne's Lace
Though we can try to imagine, it's impossible for us to know the cognitive interiority of a bird, but watching them as they vocalize can provide some clues. You can tell when a raptor is near from songbird alarm calls. These vocalizations differ from those that are used when one bird is chasing another off its territory. Their songs seem to serve their preferences, interests, and desires. Perhaps their entire vocal production is solely based on testosterone levels producing a physiological response in the quality of their songs.
But it was Voltaire who wrote:
"People must have renounced, it seems to me, all natural intelligence to dare to advance that animals are but animated machines. It appears to me, besides, that [such people] can never have observed with attention the character of animals, not to have distinguished among them the different voices of need, of suffering, of joy, of pain, of love, of anger, and of all their affections. It would be very strange that they should express so well what they could not feel."
This may not be a ridigly scientific way to approach our avian friends, but it's certainly one I like to ponder.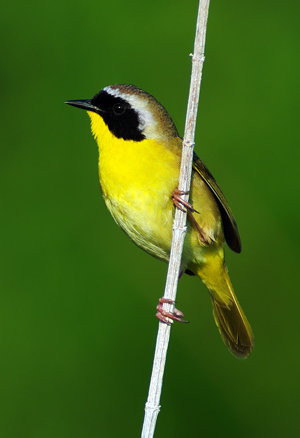 Common Yellowthroat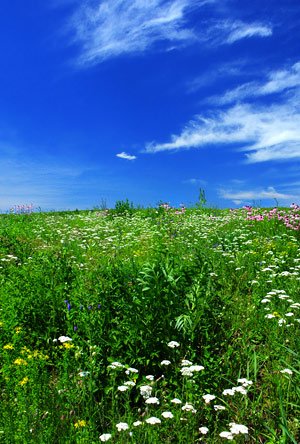 All images © 2015 Mike McDowell