"You have to feel the bite of the wind to appreciate the warmth of a winter coat."
― Fennel Hudson
Pheasant Branch Conservancy
I waited until the temperature was a balmy 5 degrees F. before heading out to Pheasant Branch Conservancy today. Even so, the windchill was between -10 and -15 ― yikes! My "bundling up" protocol includes a toasty-warm down jacket, Hestra gloves, Asolo boots, SmartWool socks, thermal underwear, balaclava, plus Yaktrax for the slippery snow-packed trail. However the cold might try to coil around me, I was determined to put some birding time in.
My first stop was a walk through the woods north of Century Avenue to check in on a bird that should be much further to our south right now. Amazingly, a Gray Catbird continues to endure the current trend of frigid temperatures. I first found this bird on December 5th. Though I missed it on the CBC, it's been hanging out in an area with plenty to eat, a small springs for water to drink, and dense cover from wind and predators.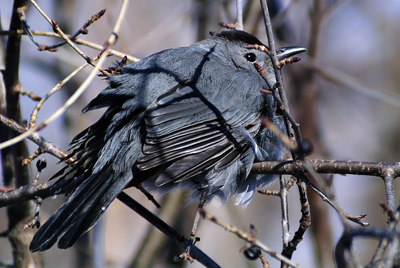 Gray Catbird
You can tell these birds are doing their best to keep warm!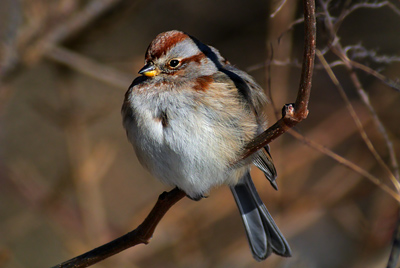 American Tree Sparrow
My hike around the prairie parcel was largely just physical exercise. About the only grassland birds I found were Ring-necked Pheasants and a few American Tree Sparrows. Most of the sparrows have moved to the feeders at the Conservancy Condos along the west side of the woods. Other birds included a large collection of waterfowl at the big springs consisting of Mallards, Canada Geese, and a few Green-winged Teal. I scanned dogwood patches for shrikes, but found none. I spotted a Rough-legged Hawk soaring overhead as I made my way back to the parking lot.
Next stop? Barriques for hot tea and lunch!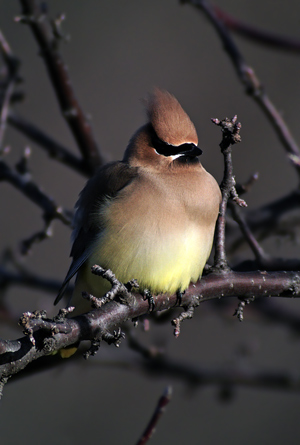 Cedar Waxwing
Pheasant Branch, Dane, Wisconsin, US
Jan 12, 2016 11:15 AM - 1:30 PM
30 species
Canada Goose
Mallard
Green-winged Teal
Ring-necked Pheasant
Red-tailed Hawk
Rough-legged Hawk
Rock Pigeon
Mourning Dove
Great Horned Owl
Red-bellied Woodpecker
Downy Woodpecker
Hairy Woodpecker
Blue Jay
American Crow
Black-capped Chickadee
Tufted Titmouse
White-breasted Nuthatch
Brown Creeper
American Robin
Gray Catbird
Cedar Waxwing
American Tree Sparrow
Dark-eyed Junco
White-throated Sparrow
Northern Cardinal
House Finch
Common Redpoll
Pine Siskin
American Goldfinch
House Sparrow
All images © 2016 Mike McDowell