"The February sunshine steeps your boughs and tints the buds and swells the leaves within."
― William C. Bryant
Two weeks passed since I last went birding ― how time flies! I made up for the gap today by covering ample ground at Pheasant Branch Conservancy. The effort paid off with a few year-birds: Winter Wren, White-crowned Sparrow, and Red-breasted Nuthatch. I tallied 39 species, which is really good for a winter outing at the conservancy.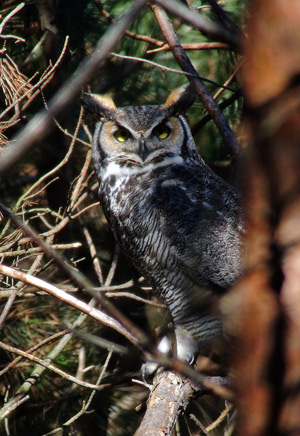 Great Horned Owl
Most of activity was in the woods, especially the feeders at the Conservancy Condos along Pheasant Branch Road. There were around a dozen Common Redpolls, a few Pine Siskins, House Finches and Goldfinches, plus an assortment of sparrows and other usual winter songbirds.
I eventually ended up at the prairie parcel, which is a great place to absorb the sun's warmth and end the birding day. One of the first birds I noticed was a young Bald Eagle flying over the drumlin. There were also a few Red-tailed Hawks soaring overhead, and a single Northern Harrier made a meandering flight from the north side of the prairie over to the marsh.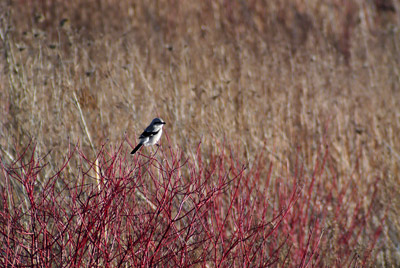 Northern Shrike
I shared my spotting scope with other trail users so they could get a glimpse of their very first Northern Shrike. It's fun to introduce non-birders to birding with a fascinating species. I gave them a few snippets on shrike behavior, including impaling prey and larder caching. They were surprised that such a small bird could be so ferocious. "They don't call it a 'butcherbird' for nothing!" I told them.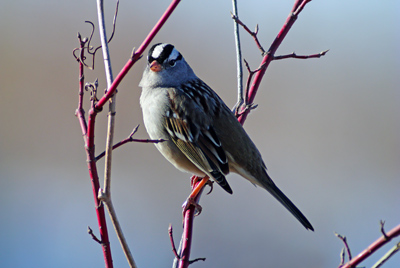 White-crowned Sparrow
I finally bumped into one of the overwintering White-crowned Sparrows. I heard from another birder there was a group of four hanging out in the northeast corner of the prairie, but this one was keeping company with a small flock of American Tree Sparrows. Perhaps the others were nearby.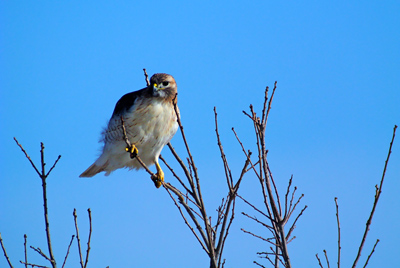 Red-tailed Hawk
I was still wearing my binoculars when I stopped at
Barriques
on my way home. The cashier saw that I was wearing my binoculars and asked what birds I saw. I replied, "Just the highlights?" After running through a few names he replied, "I have never even heard of any of those birds! Those are here?"
Pheasant Branch, Dane, Wisconsin, US
Feb 7, 2016 9:30 AM - 2:00 PM
39 species
Canada Goose
Mallard
Ring-necked Pheasant
Northern Harrier
Bald Eagle
Red-tailed Hawk
Ring-billed Gull
Rock Pigeon
Mourning Dove
Great Horned Owl
Red-bellied Woodpecker
Downy Woodpecker
Hairy Woodpecker
Northern Flicker
Northern Shrike
Blue Jay
American Crow
Horned Lark
Black-capped Chickadee
Tufted Titmouse
Red-breasted Nuthatch
White-breasted Nuthatch
Brown Creeper
Winter Wren
American Robin
European Starling
Cedar Waxwing
Snow Bunting
American Tree Sparrow
Dark-eyed Junco
White-crowned Sparrow
White-throated Sparrow
Song Sparrow
Northern Cardinal
House Finch
Common Redpoll
Pine Siskin
American Goldfinch
House Sparrow
All images © 2016 Mike McDowell