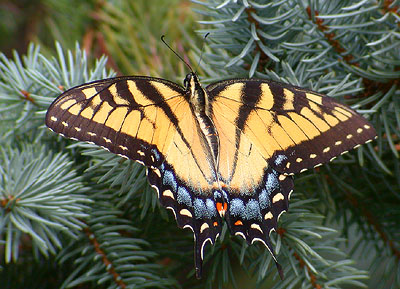 (click for larger image)
You never know when or where Nature's next panoply of color will bring about an opportunity to photographically capture a rare moment. I try not to force the issue and this summer's sizzling heat all but evaporated my motivation for fieldwork, but today's cooler weather brought back a little inspiration in the form of a yellow butterfly in our backyard.
Enjoying a relaxing afternoon on the deck, I noticed a
TIGER SWALLOWTAIL
fluttering about the yard. It eventually lit on the spruce tree just a few feet off the ground and I admired it from a distance through our binoculars. But then it just stayed there…and stayed there…and then the moment transformed to that familiar feeling when the event ceases pure admiration and
the drill
is contemplated.
Would it stay? Where is the digiscoping equipment?
It was in my car…a mere 50 feet away, but seemingly as distant as the Andromeda Galaxy when at any moment chaotic forces of nature could cause the butterfly to stir. It might be a slight breeze, a cloud moving in front of the sun, or maybe one of the several skittish Mourning Doves disturbing the very branch suspending my quarry.
Skeptical it would stay, I still got up from my chair to fetch the gear and recounted the many digiscoping opportunities that rendered
only
the drill. You think birds are tough? Try butterflies.
Tiger Swallowtail image © 2005 Michael Allen McDowell