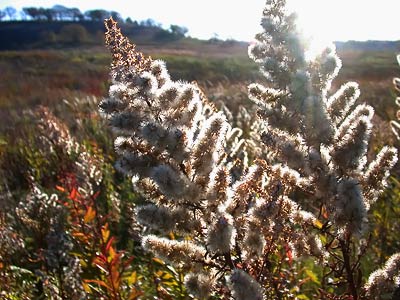 This morning I had big plans to leave Pheasant Branch Conservancy with a flash card full of digital images of sparrows – it was not to be. The location was right, the light was perfect and sparrows were super plentiful, but for some reason I couldn't keep them in the frame today. Hey...it happens!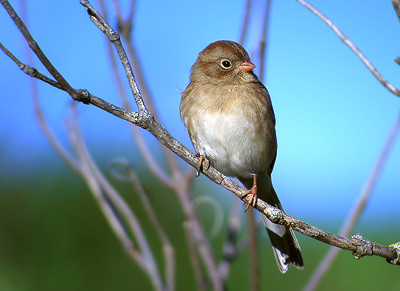 Field Sparrow (click for larger image)
Some days it seems like you can digiscope anything and everything, while other times it"s a struggle even under the best conditions. Luckily, I did get a nice photo of a
Field Sparrow
, but my favorite was this angelic looking
House Wren
caught giving its wings a good stretch: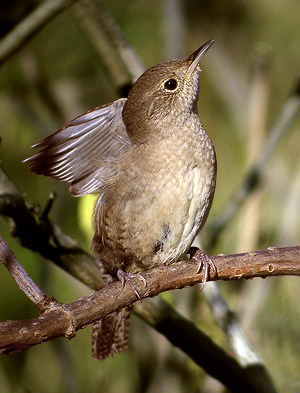 House Wren (click for larger image)
Sparrows and allies present were: White-crowned, White-throated, Fox, Song, Swamp, Field, Chipping, Lincoln's, Dark-eyed Junco, Eastern Towhee and my first
American Tree Sparrow
of fall migration. After I finished digiscoping, I birded the prairie to the big springs where I bumped into Rick Terrien. We made one more lap around the prairie for another round with the sparrows.
I discovered a nice surprise when I got home - there was a veritable "finch fest" going on in our backyard. There were dozens of Pine Siskins, Purple Finches, House Finches and American Goldfinches at our feeders and birdbaths.
Pine Siskin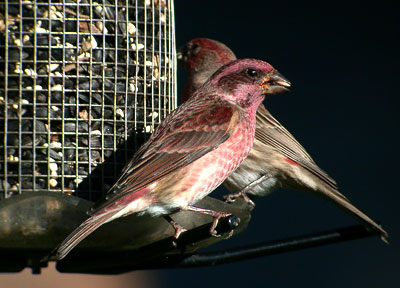 Purple Finch and House Finch
American Goldfinch
In fact, it was an incredibly good day for backyard birding:
Cooper's Hawk
Mourning Dove
Red-bellied Woodpecker
Downy Woodpecker
Hairy Woodpecker
Eastern Phoebe
Blue Jay
American Crow
Black-capped Chickadee
Red-breasted Nuthatch
White-breasted Nuthatch
Golden-crowned Kinglet
Eastern Bluebird
American Robin
Cedar Waxwing
Chipping Sparrow
White-throated Sparrow
White-crowned Sparrow
Dark-eyed Junco
Northern Cardinal
Red-winged Blackbird
Common Grackle
Purple Finch
House Finch
Pine Siskin
American Goldfinch
All images © 2007 Mike McDowell