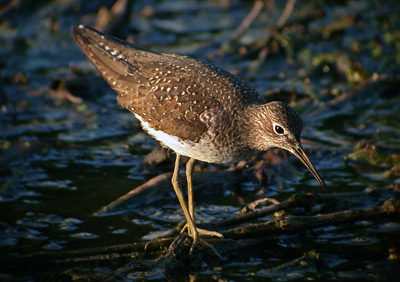 Last week I saw my first southbound
Solitary Sandpiper
of the season foraging along the edges of the Deer Creek confluence pond. It was also my first fall migrant of any kind. Mudflats near the mouth of the pond are drying up quickly, so I'm unsure if I'll have good habitat for digiscoping shorebirds there
like I did last August
.
Solitary Sandpipers start leaving their summer breeding grounds in Canada by late June and begin arriving in southern Wisconsin by mid July. During spring migration, this elegant feathered creature is one of the few shorebird species I see along the stream corridor of Pheasant Branch Conservancy. Even small ponds in urbanized areas or alongside country roads provide shorebirds with adequate habitat to rest and refuel for the next leg of their incredible journey.
Compared with an entire year of birding, a single observation of a migratory bird is an infinitesimal point in time and often gone within a moment, but
what a moment
for the nature enthusiast! It's especially rewarding for me to visit such ponds in the evening when winds are out of the north. As the sun sinks closer to the horizon, shorebirds become increasingly restless. Then suddenly, as if they've spotted a waving green flag, small flocks begin leaving in unison, calling to one another in the voice nature has given them, and setting their course in a southerly direction. They'll fly all night.
© 2010 Mike McDowell