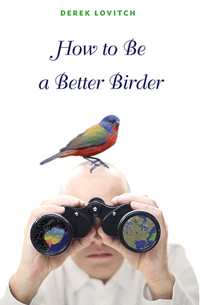 Welcome to contemporary birding!
Birders of all backgrounds and skill levels are almost certain to learn something useful in Derek Lovitch's book
How to Be a Better Birder
. Can you become a better birder? This book offers a resounding "yes" to that question. Refreshingly, this book is
not
filled with diagnostic plates and diagrams to study, but a "whole bird and more" holistic approach to ID, and to the overall pastime of birding as well. As you will discover, the author offers a lot of ways on becoming a better birder that go beyond being able to correctly identify birds in the field.
The paperback book's nine easy-to-read chapters contain excellent tips on understanding habitat, geography, and weather (good and bad) to get the best birding results. I thought the chapter topics blended nicely together in a very logical progression with my favorites being
Nighttime Birding
(great primer on Radar Ornithology),
Birding with a Purpose
, and
Patch Listing
. These are specific subjects of keen interest to me and I was pleased to discover Derek and I share many of the same birding values. For example, in his chapter Birding with a Purpose, he writes:
"And what about helping the birds that we enjoy so much, in whatever way we happen to be enjoying them? I have always been dumbfounded by the disconnect that exists between so many birders and the welfare of birds, especially at the population level."
And...
"Let us not also forget that the ultimate goal in birding with a purpose may be working to protect the birds themselves … the more people I can get excited about birds, the more people who may become bird conservationists. Interest begets appreciation, and appreciation begets compassion – and compassion begets action."
The final chapter on 'patch listing' is something I've put into practice at
Pheasant Branch Conservancy
for over a decade and have been an advocate for on
my blog
. Derek mentions patch listing is perhaps an antithesis to his chapter on vagrants because the focus is less on rare and more on common birds. He adds: "
But is it really? I mean, after all, if we choose a patch correctly, exploit it to its fullest potential, and bird it regularly, chances are we'll turn up a vagrant or two over time.
" I wholeheartedly endorse the phenological and localized approach to birding. My results at PBC have exceeded my expectations and when last I checked my patch list was up to 222 bird species.
I found Derek's writing style to be informative, passionate, and sometimes even humorous.
How to Be a Better Birder
won't change the birding community overnight, but it's a great start! I'm confident the information and ideas conveyed in this book, if applied, will render an even more rewarding and enriching field experience to the novice, intermediate, and advanced birder alike.
Princeton University Press indicates that
How to Be A Better Birder
is expected to be published in April of 2012.
Link:
How to be a Better Birder (Princeton University Press)