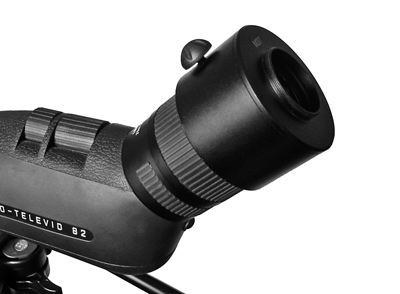 Zeiss Diascope with Swarovski DCA
Digiscoping adapters got you down? Here's something you may find useful. Perhaps by pure coincidence, both Swarovski's DCA and UCA digiscoping adapters will mount on a few other high-end spotting scopes. The Swarovski DCA's upper section will mount and lock on a Leica Televid 65 or 82 spotting scope using the Leica 25-50x zoom.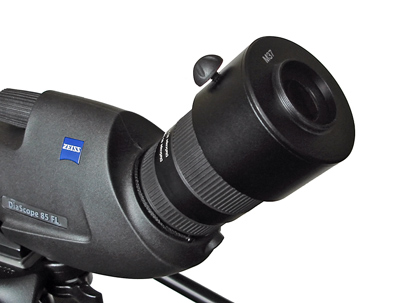 Leica Televid with Swarovski DCA
The same is true for the Zeiss Diascope 65 or 85 using the Zeiss Vario (15-56x/20-75x) eyepiece, but it's necessary to unthread the eyecup from the eyepiece. Once connected, you can either use a point-and-shoot or DSLR to connect directly to the filter thread, or use the
Vortex PS-100 adapter
if your point-and-shoot digital camera doesn't have a filter thread option. The connection seems pretty solid to me on both scopes, but you might want to exercise caution with heavier cameras.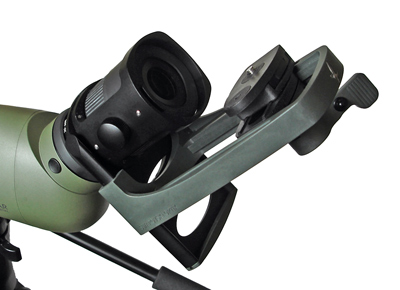 Kowa 88 with Swarovski UCA
The Swarovski UCA will mount on either the Kowa 77 or 88 using the Kowa 20-60x zoom or 30x eyepiece. The UCA can be configured to accommodate both point-and-shoot or DSLR cameras.
There may be other workable combinations of scopes and adapters, but these are the only ones I'm aware of at this time. Please feel free to comment to this post if you are aware of any I've omitted.
All images © 2012 Mike McDowell