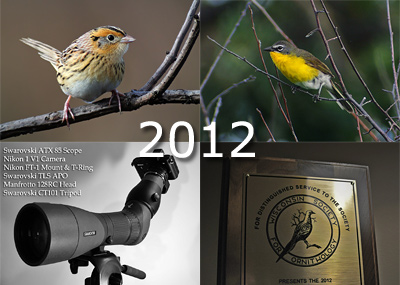 That's it for 2012!
So, what was my favorite birding experience in 2012? Easy! The beautiful
Le Conte's Sparrows at Pheasant Branch Conservancy
in October win that distinction. It was somewhat comical, actually. I was birding with Dottie Johnson at the prairie parcel of PBC and just finished saying how one day we would find either Nelson's or Le Conte's near the retention ponds. And just like that, it happened
exactly
at that spot! Well, there was a more easterly shift of Le Conte's Sparrows during fall migration and birders were finding them in higher than usual numbers in southern Wisconsin. I got my all-time best looks and photographs of this fantastic looking sparrow.
My first-ever
Northern Saw-whet Owl for the conservancy's patch list
was a close second and having a
backyard Bohemian Waxwing
in in November was also a pretty big highlight. Other exciting finds were
nesting Yellow-breasted Chats
and a sharing space with a
special Barred Owl
on Earth Day. It had also been a couple of years since a
Harris's Sparrow
was detected at the prairie.
After a decade of digiscoping with my trusty Swarovski AT80 HD spotting scope, I finally upgraded to the new
Swarovski ATX 85
. The Swarovski TLS APO adapter and Nikon 1 V1 compact digital camera make this combination extremely powerful for capturing high-resolution bird portraiture. I'm still stunned by the detail I'm able to obtain with my new rig.
My blog readers know that my current style of birding emphasizes quality time in the field over quantity of birds. Still, I enjoy entering my observations in eBird and it is interesting to look back at the data and see how the current season compares with past ones. In 2012, I birded 184 times at Pheasant Branch Conservancy
recording 183 species
, which is a personal record total. After the Le Conte's Sparrows and Northern Saw-whet Owl, my PBC personal patch list stands at 225 species. Overall, I had an above average Wisconsin year total with 220 species, but I didn't venture very far from Dane County.
For many reasons, both personal and professional, 2012 was an excellent birding year. But perhaps the biggest surprise of the year came during the WSO Convention in May. I received the
2012 Bronze Passenger Pigeon award
for "outstanding contributions in their local communities or in the state to promote the field of ornithology." I'm still honored!
Happy New year and Good Birding in 2013!